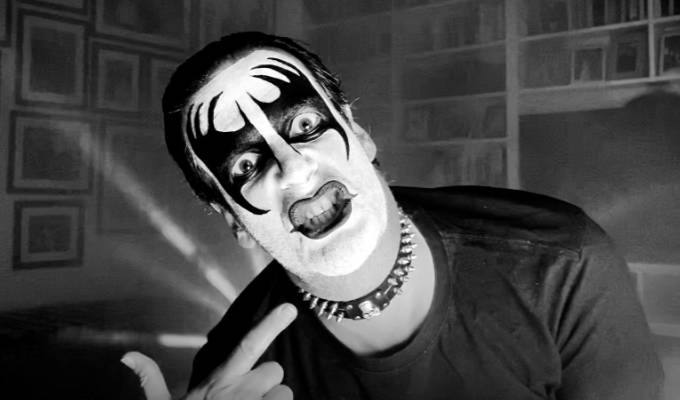 Comedians: Home Alone
This must have been one of the easiest comedy compilation shows to curate. With the live circuit in its induced coma, so many stand-ups are pumping out online content online that the whole internet is one giant audition room.
The BBC needed only to scoop up the most popular – including Michael Spicer's Room Next Door, Bob Mortimer's Train Guy and Marcus Brigstocke and Rachel Parris's lip-synch challenge – package it together, and violá, Comedians: Home Alone.
Train Guy's winningly parodic mix of alpha-male bantz and vacuous corporate-speak buzzwords such as 'goingforwardness' is, however, given an animated makeover, courtesy of Ben Satchel. An instantly identifiable archetype, Mortimer's subtle exaggerations into absurdity and pithy phrase-making ('I'm in my isolation creativity hub adding mind-yeast to the thought brewery') enhance the well-observed caricature. 'You need a ROFL vaccine listening to him' indeed.
Spicer has long gone viral with his exasperated exposés of the incompetence at the top of government - not that they need much exposing, given how much they are in such plain sight. And with daily Downing Street briefings, he's got his work cut out keeping up.
For the sketch in this show, he is the unseen adviser feeding lines to the earpiece of Home Secretary Priti Patel during her car-crash appearance a few weeks back in which she muddling numbers and inelegantly stonewalling. 'Sorry' really is the hardest word in her vocabulary, and Spicer's frustration at her ineptitude reads the national mood far better than any No 10 policy guru.
One of the strongest sections comes from Rhys James, whose wry aperçus had all the hallmarks of being forged on Twitter, given they use sparse words to convey his uniquely quirky observations. Framed as if coming from a profound guru 'having epiphanies so you don't have too', some of these peculiar assertions with a grain of truth have an air of Stephen Wright to them, which is praise indeed.
Surreal suggested cat names - possibly Mortimer's handiwork – provide an odd interlude, with some of the weirder concoctions ('Russ Abbott's Cape') calling to mind The Day Today's imaginative horse-racing names.
Speaking of reminders of the 1990s, this 15-minute show opens with Kerry Godliman in the guise of an embarrassing 'fun' mum urging her kids to join her one-woman lockdown party and trying to bond over inauthentic references to TikTok. It's very redolent of the mother-daughter dynamic in Ab Fab, but none the worse for that
TikTok's contribution to lockdown, of course, has been to amplify the popularity of lip-synching, a bandwagon Marcus Brigstocke and Rachel Parris are happy to leap on. The married pair bring the show to an end with their versions of Parklife and Let Me Entertain You, with some fine work raiding the dress-up cupboard and make-up box.
It certainly adheres to the titular promise of Robbie Williams' perennial anticipation-builder, but it's not the only part of the show which serves as a reminder that these are comedians making the best they can of a weird situation, many of them using a medium they probably wouldn't choose. It's comedy, but not as we know it.
The sooner that live gigs and more recognisable comedy shows return, the better…
• Comedians: Home Alone is on BBC Two tonight at 10pm.
Review date: 1 Jun 2020
Reviewed by: Steve Bennett
Recent Reviews
What do you think?