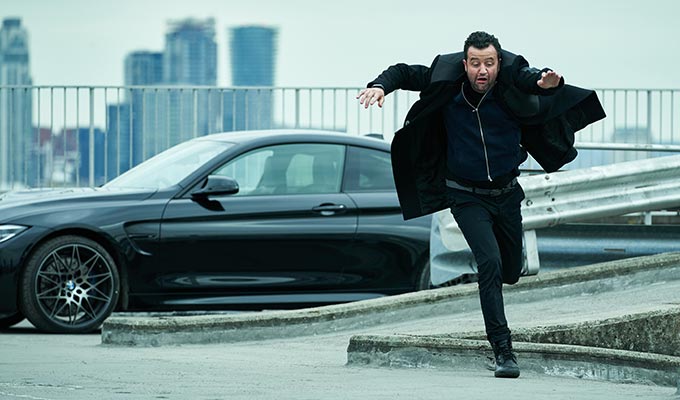 Code 404
A hero slain in the line of duty is brought back from the dead, but now given a high-tech upgrade. It's a plot that's given us the Bionic Man, Robocop or Universal Soldier, depending on your frame of reference.
But in Sky's new comedy, Code 404, the boffins have created a Six Million Dollar Dickhead. As the rebooted DI John Major, Daniel Mays is a brash, cocky alpha-male, rushing into one stupid or foolhardy action after another, no thoughts for the consequence.
'Monitor him for abnormal behaviour,' officers are told of their new work-in-progress colleague. Though that might be tough given almost everything he does is out of the ordinary.
Nonetheless DI Major is apparently the best that an elite unit of the Met can do, accompanied long-suffering partner and best pal Roy Carver. In this buddy double act, Stephen Graham is the straight man, a dedicated detective who follows more conventional policing compared to Mays' tough-guy hero.
The comedy is mostly over-the-top, with shades of the exaggerated reality of Brooklyn Nine Nine as Mays sells his verbal gags hard or goes all-in on the broad slapstick, especially after consuming a gargantuan amount of drugs for one implausible plot point. But, like most things in this show, the insanity is embraced with utter conviction.
Yet the tone isn't 100 per cent consistent. Alongside the 'Some Detective Superintendents Do Ave Em'-style humour are elements of a genuinely tense cop thriller – thanks largely to the gripping intensity comedian Richard Gadd brings to his role of a drug-dealing scumbag with deeper criminal links – as well as notes from a domestic drama. For while DI Major was presumed dead, Carver has shacked up with his 'widow' Kelly (Anna Maxwell Martin, the third Line Of Duty alumnus leading the cast) and now must navigate how, or indeed whether, to break that news.
Nonetheless, these more conventional storylines will drive the series forward as Not Going Out co-writer Daniel Peak packs in the outlandish physical and verbal gags. And while Mays is always the scene-stealer, Graham is afforded some wryly funny asides, while Rosie Cavaliero as his superior gets to be wonderfully offhand.
Sky's had a pretty good run with its comedy commissions lately, thanks to the likes of Breeders and Intelligence, and Code 404 – named after the 'page not found' error in internet protocols – is a solid and stupid addition to that decent slate.
• Code 404 is on Sky One at 10pm tonight, after which the full first series will be available on demand via Now TV afterwards.
Review date: 29 Apr 2020
Reviewed by: Steve Bennett
Recent Reviews
What do you think?