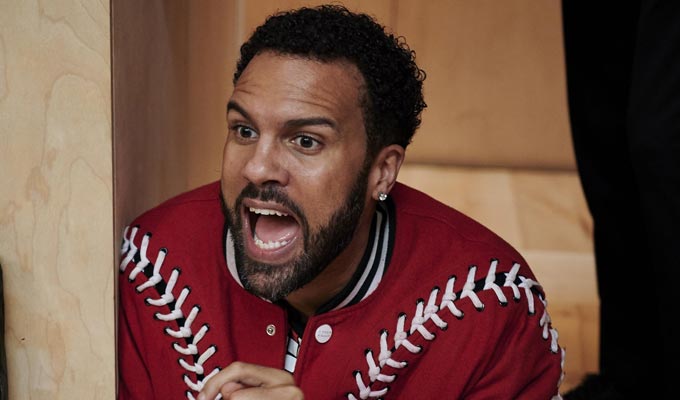 Maxxx
At the start of Maxxx, it's hard not to have some sympathy for O-T Fagbenle's title character, a former boy-band star so washed up he's reduced to playing the grimiest nightclubs, where he's bottled off by the tiny crowd who come to see him, or – worse – mistaken for Craig David.
But by the end it's clear he's an irredeemable asshole, a raging, amoral egotist without a shred of empathy whose every humiliation is thoroughly deserved.
The style of comedy evolves, too. At first this new E4 show feels like a 'sadcom' about a character rather too wretched to laugh at. But it quickly turns a lot more cartoony following the appearance of brash, arrogant, larger-than-life music mogul Don Wild, played with tart relish by Law And Order:SVU's Christopher Meloni, boasting the dress sense of Bono and the ethic of Entourage's Ari Gold.
And the show winds up as pure farce, with a generous dash of cringe, as Maxxx thoroughly embarrasses himself – were he capable of that emotion – with a wildly inappropriate, self-serving display.
The plot is that the former arena-filler wants to get back to the A-list to rekindle his romance with real-life supermodel Jourdan Dunn, only fleetingly seen on Jonathan Ross's chat show in the first episode.
Sensing the potential for big bucks from nostalgic middle-aged women, Wild instructs him to get the band, Boytown, back together and pairs him with earnest, no-nonsense, but super-smart, agent Tamzin (Pippa Bennett-Warner). 'She looks like a librarian,' Maxx comments on their first appearance, setting her up as the straightwoman in this clear odd-couple dynamic.
At the other end of the spectrum, even madder than Maxxx, is his cousin and stalkerish super-fan Rose (Upstart Crow's Helen Monks) employed as his personal assistant, but underused in tonight's first of six episodes. There's a child in the equation, too, Amit (Alan Assad) who's a small voice of normally in the chaos.
Plans for the Boytown reunion founder when one former bandmate refuses to speak to this 'toxic piece of shit' – a fair assessment – and the other doesn't look like he's in any state to go back on stage.
Though a little uneven, the show has a sassy attitude and energy, while the the pacy script is liberally peppered with waspish one-liners, from a catchy new portmanteau born from the word 'entourage', to Tamzin boasting of her 'alpha uterus', to Wild's brutally commercial view of the music business.
However strong the supporting cast is, though, Maxx is clearly Fagbenle's show. Quite literally as he also wrote and co-directed it, executive produced it with his brother Luti, wrote the theme tune, sang the theme tune…
As well as the spirited script, he delivers a calling-card performance in which he balances the tonal shifts and maintains just enough of a kernel of humanity at Maxxx's heart for us to care about him, while being entertained by his boundless awfulness.
• Maxxx is on E4 at 10.30pm tonight. Read an interview with Fagbenle about the show here.
Review date: 2 Apr 2020
Reviewed by: Steve Bennett
Recent Reviews
What do you think?