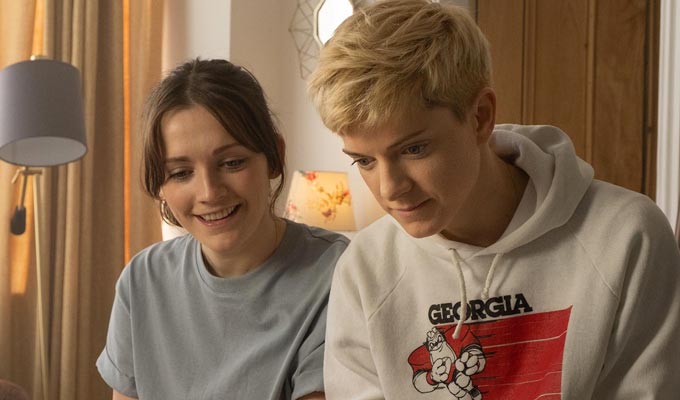 Feel Good
We should be wary of likening any complex comedy with a screwed-up central female character to Fleabag – although certainly those who loved Phoebe-Waller Bridge's work should find equal satisfaction with Feel Good.
However, while Fleabag was outwardly confident, Mae Martin – playing a fictionalised version of herself and drawing from her own experiences – may be sharp-witted, but she projects an anxious, slightly gawky awkwardness that at least partly disappears when she performs stand-up.
It is when she is on stage that she catches the eye of George (Charlotte Ritchie) in the front row, a long-term singleton who has, until now, been straight. They get talking after the show, hit it off, and after a sweetly upbeat montage with an indie-film vibe, they are a couple.
All this comes before the title card comes up – admittedly quite late in the episode – because that's when things really step up. Thanks to a tactless comment by Mae's bluntly passive-aggressive mum – a splendidly semi-detached turn by Friends alumnus Lisa Kudrow – we, and George, find out that Martin is a recovering addict. What else don't we know about her?
Her life thus flits between that new-couple cliché of Ikea trims and a dreary Narcotic Anonymous meeting, where she ends up with the intense and mercurial Maggie (Sophie Thompson) as sponsor. Though given her addiction to coffee, making her even more buzzed than normal, this might turn out to be a toxic choice.
It's a tightly-plotted script that covers a lot of ground, but never feels rushed while still finding enough breathing space for comic relief. Some of these moments come from the quirky language deployed by Martin and her co-writer Joe Hampson, although others are at odds with the clear authenticity of the central relationship – such as Phil 'Doctor Brown' Burgers as George's nutty flatmate or Al Roberts as the tedious work colleague with a crush on her. But realism and relatability be damned, as these are the most laugh-out-loud funniest moments.
There's also a whole heap of charm at the centre of the show that will have audiences rooting for this convincing new couple – even as we see the rocks ahead in their romance. The sexuality, incidentally, isn't a big deal, but places George – yet another winningly sympathetic performance from Ghosts star Ritchie – on an uncertain footing to match the hesitancy inherent in Martin's personality.
Feel Good is a layered, nuanced comedy with humanity, and all its flaws at its heart, and comic absurdity on its fringes. That's a potent combination
• Feel Good is on Channel 4 at 10pm with all episodes available on All4 immediately afterwards.
Review date: 18 Mar 2020
Reviewed by: Steve Bennett
Recent Reviews
What do you think?