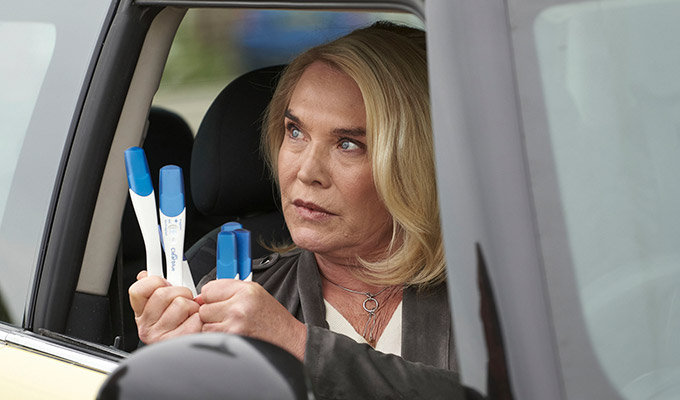 Bumps
Comedies these days are as much about the narrative and the drama than the laughs – if not sometimes more so. Out of fashion are the sitcoms which reset at the end of 27 minutes for the characters to repeat their same mistakes week in, week out in favour of series-long story arcs that are perfect for binge-watching on demand.
In this landscape, the BBC's Comedy Playhouse notion of pilots seems slightly odd. For tonight's Bumps is all about the set-up. To find out what actually happens beyond that will depend on the vagaries of the Corporation's glacial commissioning process – and even if the powers-that-be finally decide to order more, they will take months to produce.
All that success that writers Lucy Montgomery and Rhys Thomas and a starry cast have in creating engaging characters and a unique premise is thus dissipated at the episode's end.
Bumps revolves around lively, single, empty-nester Anita, who feels something's missing from her life in Essex. Unlikely to become a grandmother thanks to her selfish, immature son Aiden (Seb Cardinal in full drama-queen mode) and reckless daughter Joanne (Lisa McGrillis from Mum), she decides to use IVF to have another baby, despite being over 60.
It's probably not too much of a spoiler to reveal that she does conceive – where's the show if she doesn't? – although it turns out there is a spanner in the works as well as a bun in the oven.
The pace of this opener is a little slow, and it rarely intends to be laugh-loud-funny, though there are plenty of wryly amusing, character-driven lines from an excellent cast.
Redman is hugely likeable, just slightly larger-than-life in her bubbliness, while every supporting role is nicely fleshed out. Thomas is great as Joanne's appallingly unengaged partner, while Montgomery plays a barmaid slow on the uptake without being dimwitted to the extent of comedy cliché.
Look out, too for Louise Jameson as Anita's cattily passive-aggressive older sister, The Wire's Clarke Peters as an empathetic customer on Anita's rounds as a supermarket delivery driver, comedy veteran Leila Hoffman as her mum and even Freddie 'Parrot Face' Davies as her dad.
There are some tonal echoes of the recently-cancelled Scarborough in its ensemble cast, naturalistic acting and lower-middle-class coastal setting, especially the scenes set in an unpretentious pub. But let's hope Bumps has a better chance of coming into life – as you'll be itching to find out what happens next after the final credits roll.
• Bumps is on BBC One at 9.30pm tonight.
Review date: 21 Feb 2020
Reviewed by: Steve Bennett
Recent Reviews
What do you think?