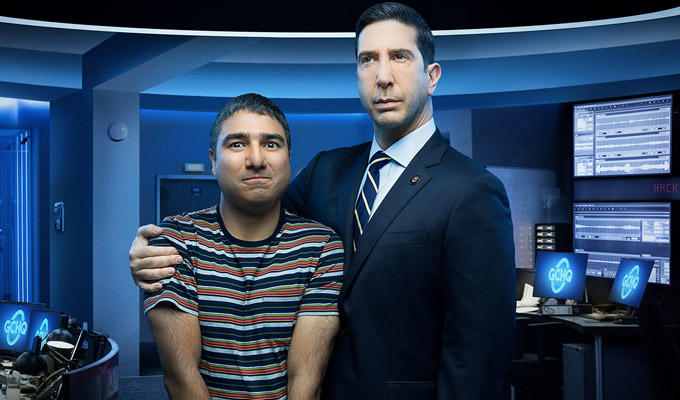 Intelligence
The wait for TV to use Nick Mohammed to his full comic potential is finally over, thanks to Sky One's new sitcom, Intelligence. And all it took was him to write it himself and get David Schwimmer to agree to co-star.
It's set in the GCHQ eavesdropping station in Cheltenham, with Mohammed playing Joseph, a geeky and hapless analyst very much in line with his normal type: a socially awkward beta-male with a nervous, slightly camp energy, always over-eager to please.
That makes him the ideal lickspittle for Schwimmer's Jerry Epstein, an obnoxious blowhard sent from America's National Security Agency to liaise with the Brits. He arrives with an arrogant swagger and quickly tries to make the listening post his own, via a bizarre mix of trust exercises and jelly-bean bribes, all to the chagrin of GCHQ's steely director of cybersecurity, Christine Clark, played with inscrutable stern authority by Sylvestra Le Touzel.
Thus the scene is set for some clashing of heads, while behind Jerry's bluster are clues that maybe Washington hasn't exactly despatched the best of their best to Gloucestershire.
This isn't Spooks: The Sitcom. Any dramatic thrills from the world of espionage are largely ignored, certainly in the opening episode, to focus instead on the misfit personalities of the code-breakers. They include intense Goth hacker Tuva Olsen (Gana Bayarsaikhan) and bedraggled Mary Needham (Jane Stanness) who looks more like a cat lady than a vital warrior in the cyber wars.
However, there is an urgency to the action, thanks to a pacy script that packs in the jokes. Most laughs are in the verbal sparring, but there's an hilarious physical scene, too, when Mohammed attempts everything to get past a secure door.
It some ways it's an old-fashioned workplace comedy – Are You Being Surveilled? – as it shuns the comedy-drama so currently in vogue. But the brisk tempo, some sharp gags and, of course, the shiny tech, give Intelligence a contemporary edge, as well as being a lot of fun.
• Intelligence is on Sky One at 9pm tonight
Review date: 21 Feb 2020
Reviewed by: Steve Bennett
Recent Reviews
What do you think?