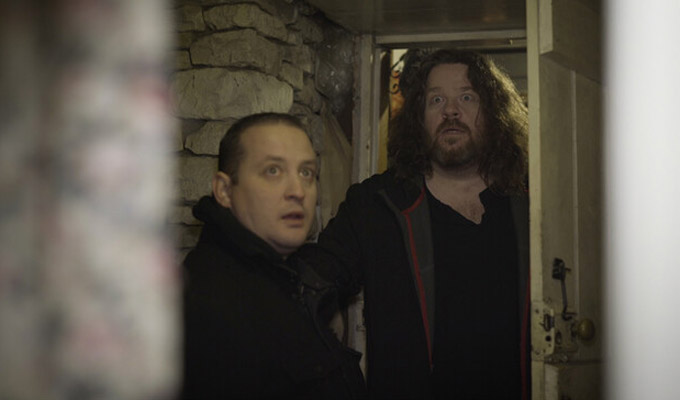 The Parapod Movie
It's impossible to write about The Parapod Movie without acknowledging the remarkable way it was financed.
Comedians Ian Boldsworth and Barry Dodds have become the first podcasters ever to turn their show into a feature film. That's thanks to all those listeners who dipped into their pockets and crowdfunded it, wanting to see how the pair could translate their debates about the existence of ghosts to a big-screen narratives.
Spooky films suit low budgets, and The Parapod Movie certainly has its share of wobbly, low-light Most Haunted-style footage from hand-held cameras as the pair investigate some of Britain's eeriest locations.
But a more lavish shots that break the claustrophobia of the ghost hunts – including a beautiful drone swoop of a snow-capped church – and a wonderfully evocative soundtrack Thomas Van Der Ree ensure it never feels cheap.
As listeners to the podcast will know, but newcomers are quickly told, Boldsworth is a lifelong sceptic while Dodds believes rather too gullibly in the supernatural, his faith never dented by his friend's dogged pragmatism – or the fact that whenever he's shocked at any 'haunted' location, it's down to wind-up merchant Boldsworth dicking around.
Boldsworth also directs the film, but you get the impression he's long called the shots in their relationship, too. Their dynamic is, broadly, a bit Ricky Gervais-Karl Pilkington, with the senior half relentlessly mocking the comic naivety of the other, challenging whatever nonsense he's doggedly clinging to.
Venturing out of their recording studio, they drive up and down the country in a converted hearse – their version of the Ghostbusters' Ectomobile or Scooby-Doo's Mystery Machine, visiting the haunted village of Pluckley in Kent; the home of the world's most violent poltergeist at 30 East Drive in Pontefract; and the underground labyrinths of Edinburgh.
The film could threaten to get a bit samey in its attempts to track down the phantom menaces, but spanners are thrown into the works just before that happens, from Dodds getting a genuine fright, to the unwittingly hilarious 'medium' who spits out her ill-concealed contempt for Boldsworth under the flimsy guise of a message from the other side.
Because this is a film about people more than it is about spectral happenings, especially the two protagonists' peculiarly male friendship based largely on taunting, piss-taking and cajolery. That, of course is where the comedy comes from.
It's also about the nature of belief, from the nature of ghost stories we like to tell ourselves – a notion underpinned by succinct talking-head experts – to the fact the supposedly 'open-minded' Dodds is unwilling to accept serious scrutiny of his point of view, preferring to hide behind pseudo-scientific gadgetry he ultimately knows is pointless.
All this means this movie has an appeal that should reach beyond existing fans of the podcasts. No knowledge of the show is needed, and you don't even need to care too deeply about things that go bump in the night to become bewitched by their fractious friendship in a film that offers shocks, chills, laughs and a hot take on human nature.
• Boldsworth and Dodds are taking The Parapod Movie on tour this spring, with screenings followed by a Q&A. Click here for the dates.
Review date: 14 Feb 2020
Reviewed by: Steve Bennett
Recent Reviews
What do you think?