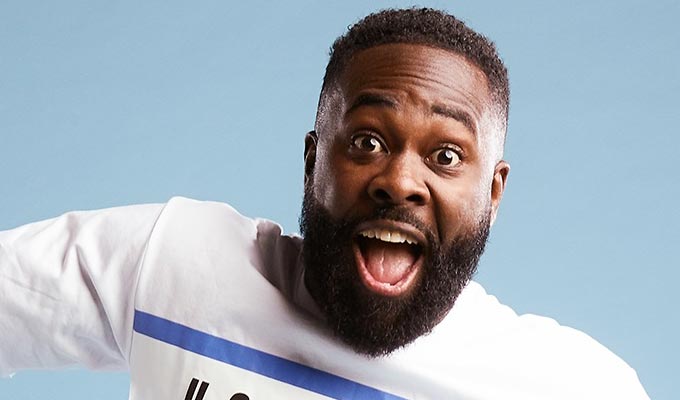 Kojo Anim Presents the Taxi Tour
It's an odd honour to be Simon Cowell's favourite comedian, given his background's in music moguling. Much like being Danny Dyer's favourite ballerina – a nice honour, but is it really his sphere of knowledge?
Kojo Anim's first tour after his incredible success on Britain's Got Talent underlines his credentials as a personable performer, but he plays things very safe with meandering, chatty and often nostalgic, material that is more relatable than it is hilarious.
After support from the bland Travis Jay and the deceptively sharp Joe Bor, the show gets off to the most awkward start, showing the gulf between the US-style of superstardom Kojo clearly aspires to and the more down-to-earth setting of a regional UK theatre.
The house lights dim but the background music continues. Is this the start or not? After a minute or so the music ends, and for a few moments there's weird silence as we look at the empty, but lit, stage. Then we are urged - no, ordered - to rise to our feet to give Anim an unearned standing ovation on his entrance. Those who comply seem suitably self-conscious about it. 'Sit down, sit down,' the comedian immediately urges of this 'spontaneous' display.
That needless embarrassment over, Kojo shares his reasons for going on the ITV talent show and his experiences on the day of the recording, arriving at 8am and finally getting on stage at 9pm, and addressing the fact he already knew judge Alesha Dixon. It's an informative chunk if you want to know about the programme, but not especially funny. You might as well read an interview with him.
But then Kojo's writing is underpowered throughout, as he covers such familiar ground as hiding from Jehovah's Witnesses, dating and being brought up by tough African parents.
One of his dullest stories involves a freebie trip to a dentist in Turkey that he scored on the back of Britain's Got Talent in which he tells of being confused about whether to have veneers or crowns, as unexciting a topic as it seems. Compare this with the routine about going to the dentist from Michael McIntrye – hardly Mr Edgy – where he hilariously recreates the effects of the anaesthetic, and Kojo's routine seems about as appealing as getting your fillings done.
Still, he does flash the dazzling products of that dental work liberally, as he frequently beams with joy. His biggest asset as a performer is an irresistible warmth of personality, and audiences instinctively take to him.
There's also skill in the exaggerated act-out, from his while friends to his no-nonsense father, from the mincing homosexual and the head-wobbling Indian. These stereotypes are not meant in meanly, but shows the old-fashioned nature of his act.
He uses 'whassup?' as a contemporary reference, a full 18 years since the Budweiser ads ran, and even unknowingly does a version of a gag from 4th-Century Greek joke book (Barber: 'How would you like your hair cut?'/Customer: 'In silence'). More unfortunately he has a comment about adopting the accent of whoever he's speaking to that's inferior to Bor's version of the same. The difference is that Kojo leaves it as an observation, while his support act took the trouble not only to add a punchline, but one which requires the audience to make a small mental leap.
Kojo's richest pickings come from his childhood, vividly conveying his strict African dad to the more laissez-faire attitude in the house of his white best mate. Talk about being beaten for the sins of another is not hugely original, but he evokes it expertly. The description of his father's reaction to an impertinence is the highlight of a show, that's informed by the image of a tough life in East London, constantly hiding from the bailiffs, but never defined by it.
We end with a Q&A - a format that never fails to be an anticlimax even when, as tonight, there are some clearly prepared questions. Nonetheless, the energy is good as all three comedians return to the stage and there are some pithy lines from them all as they share their bantz.
Whether the slim pickings of Taxi Tour will be sufficient for Kojo to parlay casual TV admirers into a large enough fan base to propel him into the big leagues remains to be seen. He's too insubstantial and uncreative for my taste, but such things are rarely a barrier to superstardom if you're likeable. And that, Kojo most certainly is.
• Kojo Anim Presents the Taxi Tour continues around the UK until March 20, when he plays a homecoming gig at the Hackney Empire. Dates and tickets.
Review date: 10 Feb 2020
Reviewed by: Steve Bennett
Reviewed at: Hornchurch Queen's Theatre
Recent Reviews
What do you think?