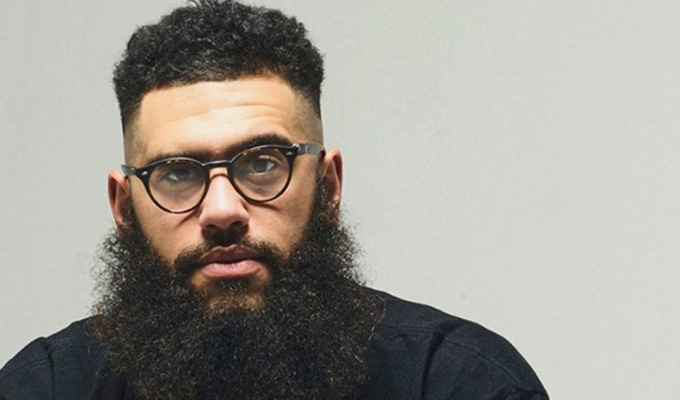 Jamali Maddix: Strip Club Einstein
Strip Club Einstein is a good title for Jamali Maddix, a comic who is at once a wastrel and an intelligent and astute social philosopher.
In fact , he often maintains two opposing personas, which perhaps comes with the territory of being mixed race. He's proud of being from the streets, but admits gentrification has its benefits; he briefly flirted with being a roadman in London's postcode gang wars, but instead settled for being the professorial sage of his brethren; he's trying to be a 'grown man' as he approaches 30, but enjoys the recklessness of youth. 'I'm a scumbag,' he concludes at one point.
Such ambiguities are welcome in a time of entrenched certainties. Maddix pits himself as an outsider in almost any situation, the sort of person who think Greta Thunberg is both morally right and intensely irritating. Overall, though, he is a keen liberal with a righteous sense of injustice on matters of class and race, which gives his comedy a relevance, even if he is often too chill to do much about righting wrongs.
Maddix is a natural storyteller, and tales from his sketchy past or foolhardy present, such as an ill-advised casual hook-up when on tour, have a vicarious interest for the largely young, hip, middle-class and white audience who flock to the Vault Festival beneath London Waterloo station. His charismatic, laid-back demeanour has the room leaning in, hanging on his every word.
The flip side of this is that because he has no need for a punchline every few moments, he can get a little distracted, forgetting the need to get laughs, which means momentum lags between each routine as he sets up a new story without any sense of urgency. The show, just a week away from kicking off its tour in earnest after these previews, could also do with more form and sense of purpose.
Yet there's no dimming Maddix's appealing essence that combines a lack of concern about conformity or decorum worthy of Doug Stanhope, and an authentic and passionate voice worthy of Bill Hicks. Strip Club Einstein does not hit the almost unscalable heights that combination suggests, but it does underline Maddix's position as a clued-up comedian with something to say, and he eloquence to say it.
• Jamali Maddix's Strip Club Einstein kicks off its UK tour at the Hen And Chicken in Bristol next Thursday. Dates.
Review date: 30 Jan 2020
Reviewed by: Steve Bennett
Reviewed at: Vault Festival
Recent Reviews
What do you think?