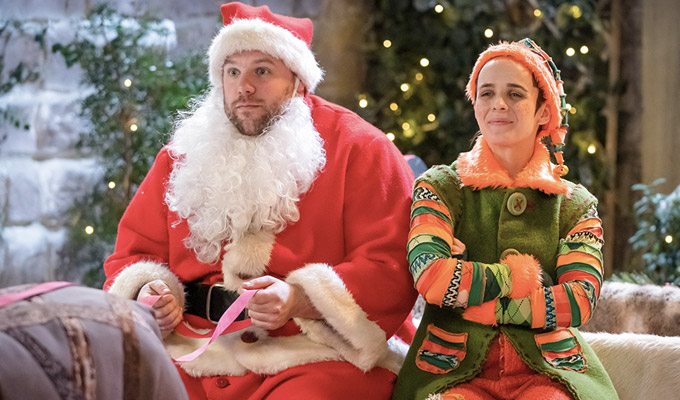 The Goes Wrong Show
With two shows running in London and now this TV series, which kicks off with a festive instalment tonight, the Mischief Theatre Company behind the Goes Wrong franchise have proved the enduring success of slapstick.
The set-up of this BBC One family comedy is that the amateurs at the Cornley Polytechnic Drama Society are presenting a live show to the nation every week, despite their staggering levels of ineptitude.
That the premise is so obviously fake sets a corny tone that defines the half-hour. But while many of the slip-ups are predictable, the escalating level of the farce is still likely to get you laughing, encouraged by the priceless facial expressions of the cast. Adopting a 'show-must-go-on' spirit, each of Cornley's thespians plough through the script, despite missing props or absent cues, even thought they know they're convincing nobody. The look of panicked terror is writ large in their eyes.
After a bit of a flat opening skit, this episode gets into a proper story, introducing us to a down-at-heart little girl called Belle (the clearly adult Bryony Corrigan), who's lost the spirit of Christmas because her parents are always fighting. Could Santa, his elves, and a magical snowman help her find it again?
That one of the elves gets stuck in the chimney, leaving a double-act at half strength for the duration, is typical of the silliness. Crackers explode, props end up in the wrong place and actors fail the basic requirement of their craft and DO walk into the furniture.
Almost inevitably Santa – the larger-than-life, show-stealing Henry Lewis – has too much to drink, and starts getting maudlin about the love who left him and belligerent about the nonsensical play and his colleagues' overacting before eventually turning his bitterness on the audience.
Subtle it ain't, and while the chaos does lose something in the move form stage to screen, if you're prepared to go with flow of foolishness, there's plenty to amuse. The enduring success of 'epic fail' videos on the internet proves how everyone loves a a snafu. And while every mistake here is, of course, meticulously planned, they are pulled off with enough flair, commitment and occasional ingenuity to break all but the most cynical of viewers to laughter.
Review date: 23 Dec 2019
Reviewed by: Steve Bennett
Recent Reviews
What do you think?