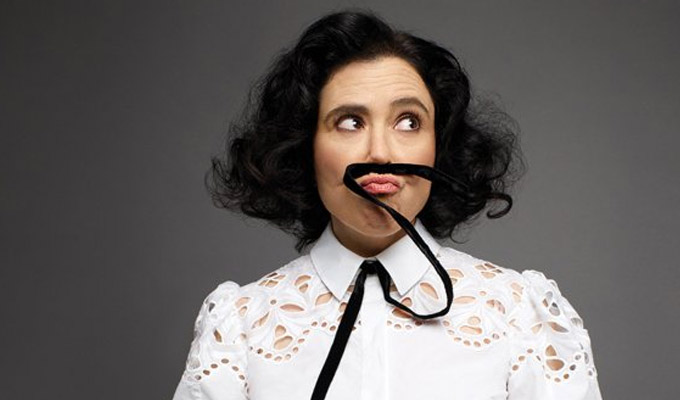 Alex Borstein And The Amstergang
Depending on your comedy tastes, you'll either know Alex Borstein as the no-nonsense manager with a flair for an F-bomb on the Marvelous Mrs Maisel, or the fork-on-china voice of Lois on Family Guy.
These have brought her fame and fortune, whereas performing some light cabaret with The Amstergang – a couple of middle-aged ukulele-strumming guys she found in Barcelona – seems more of a hobby project. Something done for her own amusement with no need to prove, or even stretch, herself.
As such, the show feels slight and underwritten, especially when it comes to the comedic content. For example, talking about the fact she finds herself living in the Catalan capital after a 20-year relationship that produced two kids is not a reason to consider her situation in any depth, just to roll the Spanish pronunciation of 'Barthhhelona' around her mouth repeatedly, and express her surprise at finding some fellow Jews there.
This banter is genteel and genial, even if the content is sometimes filthy or in deliberately dubious taste as a counterpoint to the elegant cabaret set-up. It's engaging enough filler between the songs old and new, many o which feature rewritten lyrics – such as repurposing a track from Hamilton to be about Terminator actress Linda Hamilton, or adding references to dildos to the Little Mermaid soundtrack.
It's not ambitious fare; even when adopting the messages of feminism and tolerance, Borstein remains on familiar ground. And many of the observational vignettes are politely rather than enthusiastically received, often prompting her to check her references with a: 'Do you have that here?'
There's some Hollywood luvviness afoot, too, such as telling us what a privilege it was to work with Alan Arkin – then holding for the smattering of light applause she knows will fill the gap. In that spirit, Borstein offers some chat-show-anecdote level inside track on Mrs Maisel – apparently, they just set a record for the most extras in a scene – and serves up a song in Lois's voice.
Luckily, her own tones are a long more smooth, soulful and sassy than Mrs Griffin's, and well-applied to the material here, whether its a cynical Christmas ditty that's the hour's timely high point, or a catchy country-infused montage of Queen's Fat Bottomed Girls with more modern tracks with a similar theme.
Considered as a mix of 'audience with…' chit-chat and occasionally cheeky cabaret songs, sung with winning vocal flair, this show offers an engaging and charming 90 minutes – even if it's ultimately light on substance.
• Alex Borstein And The Amstergang are at Soho Theatre until Sunday.
Review date: 13 Dec 2019
Reviewed by: Steve Bennett
Reviewed at: Soho Theatre
Recent Reviews
What do you think?