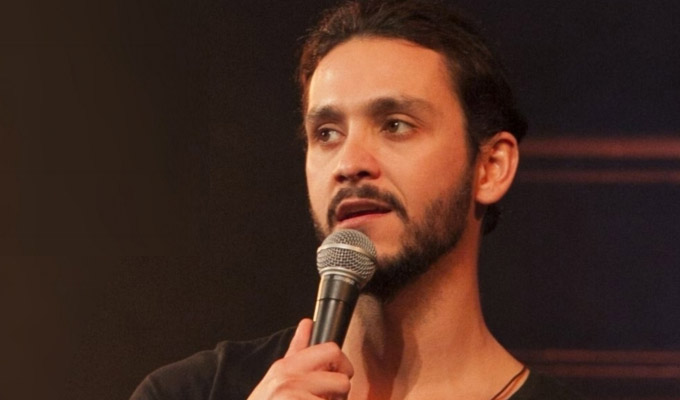 Darius Davies: Persian of Interest
It's a shame the job of 'being Dave Gorman' is already taken, because Darius Davies would make a fine candidate for the job, given the way he uses PowerPoint and mischief to mock how everything is not always what it seems in this online world.
Like Donald Trump, this Anglo-Iranian comic cries 'fake news' when he reads something he doesn't like. In this case, a slew of one-star reviews from a large group of Spanish tourists he ejected from his Edinburgh Fringe show when their fundamental misunderstanding of stand-up – and their continual simultaneous translation – proved too distracting for the rest of the audience.
This extended routine starts to comes across as a little self-indulgent the more he attacks the easy prey of their faltering, Google-translated English – especially when it comes to their attempts at elaborate swearing. But stakes are raised when they take to Twitter and hilariously try to escalate their complaints to a higher power.
If you can't trust online reviews, even more dubious are Tinder bios, and after facing rejection upon rejection as himself, Davies experiments with a female profile, getting a literal rude awakening to the onslaught of sexually aggressive comments women receive on a daily basis. At least he has the ability to turn it off once he's secured the hilariously outlandish raw material he needs.
Again the material almost writes itself, and again is dependent on poor English. But the fast-speaking Davies is a vibrant performer, eagerly mocking the messages with a pace and an incredulity that crescendos in intensity, getting the audience guffawing along. There's certainly more technique than comic invention, but those technical skills can't be faulted. And even when he's mocking others he has enough of a self-deprecating air to keep things fun.
In his final section, Davies strikes a blow against corporate greed, too, sticking it to Ryanair some time after they charged him £50 to print out a boarding pass, thanks to a prank that propelled him into the national media. Again, he mines this incident skilfully, turning a silly practical joke into an act of defiance, and a cautionary tale never to believe what you're told. He has a touch of the conspiracy theorist about him, too, and he stunt feeds into the notion of never trusting he mainstream media. Even if claims that the show is of a significance beyond the prank is a little inflated.
His show at London's Top Secret Comedy Club was, like his Edinburgh run, a 'pay what you want' affair – which given that he shares genuine, if morally indefensible, money-saving tip that will unlock free Spotify forever, makes for remarkable value for money, even if you put a tenner in his bucket.
Review date: 24 Oct 2019
Reviewed by: Steve Bennett
Reviewed at: Top Secret Comedy Club
Recent Reviews
What do you think?