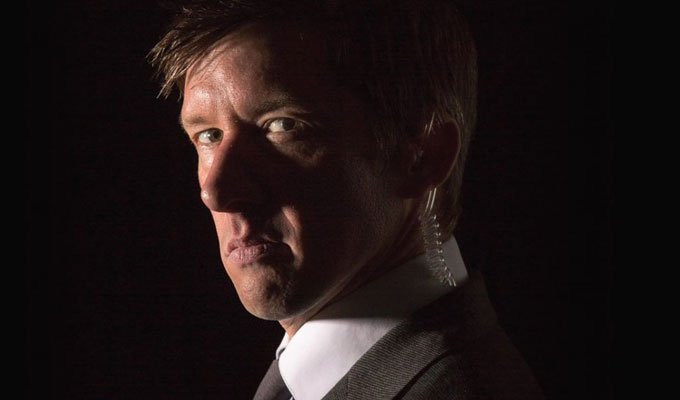 Jonathan Pie: The Fake News Tour
Midway through a typically impassioned rant against 'woke' comedy, spoof news reporter Jonathan Pie rages: 'Sometimes you want to have a laugh without being lectured.' Which is definitely a bit rich coming from him…
For Fake News is a state-of-the-nation diatribe that encompasses the interconnected topics of Brexit, austerity, outrage culture, climate catastrophe, casual racism, social media solipsism and much more besides. It's a compelling, astute and wide-ranging narrative with a rousing, largely common-sense message that brings the audience to their feet.
It's also just as preachy as any of the liberal comics Pie had in mind with his woke comment – if not more so. Even if him being tongue-in-cheek with that snipe is a distinct possibility.
Fake News is, indeed, presented as a lecture tour, all Pie the only option allegedly left to him after he fell victim to 'cancel culture' for an ill-advised comment made when he didn't realise the camera was still live to the BBC studio. You have to admit it's quite a move to claim victimhood for an entirely fictionalised event – for even if Pie isn't real, almost all of the views he espouses are intended at face value.
Holier-than-thou social media commentators are a prime target, not least the body-positive campaigner who dropped the c-bomb against Cancer Research for stating the fact that obesity is a major factor in contracting the disease. Facts don't care for your opinion is his message, along with the argument that the media he nominally represents have dropped the ball when it comes to differentiating the two.
Everyone's increasing certainty that they're right and that anyone who disagrees is a bastard worthy only of contempt is a recurring theme, whether it be on Brexit or the ethics of an ill-judged joke. We should recognise the flaws and hypocrisies in ourselves and others, as well as the capacity for change and redemption, is his message.
He makes reasoned points and lots of them, which deserve respect even if you don't agree with every one (and you won't). It's intelligent and thoughtful, and Tom Walker, the actor who writes and performs Pie, brings a rare passion and intensity to this material that fires up the audience.
Alongside the social commentary, he also draws in strands that may or may not be true to reinforce his points: about his divorce, his five-year-old-son and the death of his father, a working-class man who would always rather be right than be happy.
However, the manifesto comes well ahead of the comedy, from a man who admits to having more than a chip on his should. There are moments when the wit zings – a fierce volley of ad hominem insults against Boris Johnson is especially hilarious in its potent bitterness, and Pie does occasionally puncture his own intellection pretentious. But humour is not a constant
Then again, his terrifically popular YouTube rants that bring him his live audience are similar: apoplectically exasperated point-making with only the occasional comic overtones, so with Fake News he's surely giving fans what they want and expect.
In fact, his stage shows have always funnier than the videos, including this one, the first Walker has written without comedian Andrew Doyle since he went on to solo internet success in the guise of another snowflake-baiter, Tatiana McGrath.
So if you want a view of the world that's smarter, sharper, angrier and more opinionated than anything George Alagiah will give you, then this is for you. But for hearty belly laughs, there are better options.
Review date: 17 Oct 2019
Reviewed by: Steve Bennett
Reviewed at: Reading Hexagon
Recent Reviews
What do you think?