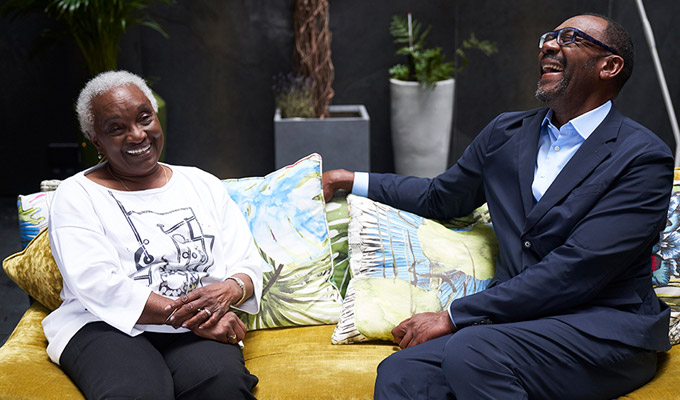 Lenny Henry's Race Through Comedy
Despite a small handful of high-profile exceptions, black and Asian characters tend to be under-represented in TV comedy. But this fascinating new series demonstrates just how far we've come in a generation, while also giving an insight into Britain's social history as reflected through the screen.
One moment sums it up perfectly when Chewing Gum actress Roxy Sternberg is shown a clip from the 1970s sitcom Love Thy Neighbour, based entirely around a bigoted white homeowner trading insults with the black guy next door. 'I heard "Sambo,"' she says, horrified but uncertain why. 'What is "Sambo?"'
Love Thy Neighbour was not exceptional for a time that also gave us a browned-up Spike Milligan playing a Pakistani in Curry And Chips, and Mind Your Language, which was based only on foreigners' accents and broken English.
Yet there was also Rising Damp, where Don Warrington's sharp, sardonic and well-spoken Philip brings out all of Rigsby's worst prejudices without playing to any stereotypes. And The Fosters, the first British sitcom to have an entirely black cast, including one Lenworth Henry.
Ironically, that was commissioned by Michael Grade – who also ordered Mind Your Language, even if he did later have the good sense to regret it. Ditching prejudices proved hard for broadcasters.
Sir Lenny takes us through the likes of Mixed Blessings, about an inter-racial couple which was probably considered progressive in the way it was sympathetic to the lead characters. But as Lord Grade says: 'The show never outgrew its premise that the couple are "a problem" because he's white and she's black.'
American imports like Diff'rent Strokes and, yes, The Cosby Show, helped normalise the representation of black families, as did Channel 4 with its remit to push the envelope. Desmond's, of course, is fondly remembered; less so is its first ever sitcom, No Problem! created by the Black Theatre Co-operative.
More than a typical talking-head clip show, by including some lesser-known programmes Race Through Comedy gives an illuminating picture of how comedy has been evolving into an ever-better place right up to the likes of Phoneshop, People Just Do Nothing and Chewing Gum (but not Man Like Mobeen, a rare omission).
Sir Lenny's a perfect host for this, and not just because of his always-affable presence. His campaigning for better representation on and off screen is well known, yet he doesn't need to be polemical, as so often the old programmes speak for themselves.
Plus he's able to pull in some top interviewees to add commentary, either because of their involvement or their insight. Professor Robert Beckford describing a 'trilogy of disasters' with sitcoms suggesting black people were a problem to work with, to live next door to, and to marry – which seems on the nose.
And finally, Sir Lenny has solid credentials in all the subjects covered across the three episodes, not just tonight's episode on sitcom, but also stand-up tomorrow and sketch comedy on Thursday.
• Lenny Henry's Race Through Comedy is on Gold at 9pm tonight, tomorrow and Thursday.
Review date: 15 Oct 2019
Reviewed by: Steve Bennett
Recent Reviews
What do you think?