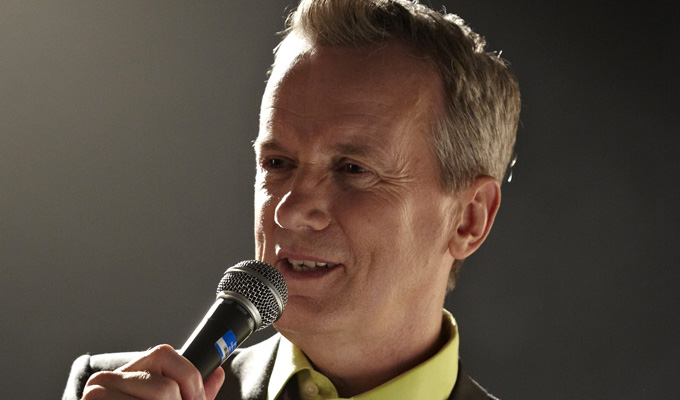 Frank Skinner: Showbiz
He was the face of the lad comics who dominated the 1990s, talking football on the telly and sex, in graphic detail, on stage. But now Frank Skinner's 62 and he admits the libido has gone.
And not just literally in his gently ageing body, the comedy libido is diminished, too: he's no longer so cocky, not quite so willing to head for risqué material with a naughty, cheeky wink, not quite so desperately eager to land a big guffaw.
This may sound negative, but it's not; the more relaxed, discursive approach suits him. The bawdy bloke has matured into the older geezer with a thousand amusing stories, which he'll tell at his own sweet pace.
He jokes that his longevity means we might consider him with a mix of curiosity and grudging respect – 'like seeing a wasp in November', in his own memorable phrase. But he's still got those innate stand-up skills that made him famous, only now they are combined with the quiet confidence of an elder statesman with nothing left to prove – unlike the younger generation of comedians who he scorns as 'current' giving he word all the jokey contempt he can muster.
Of course, the failings of the flesh are a recurrent theme, as they expose the fragility of human vanities. He makes strange noises, his shoulder slopes oddly and he's 'got a back' but doesn't know why. Combine that with hilariously told ego-shredding stories of how he likes to eat a hard-boiled egg in front of the TV, of inappropriately getting his penis out (but not in a Louis CK-y type of way) and how he might skimp on wiping his arse, and any elevation he might have had from being rich and famous – which he cheerfully acknowledges as a statement of fact – is instantly eroded.
How the world is changing so fast for him is another strand, evoking nostalgia for the strange novelty dances of his day and wondering where pubic hair went – not the most original routine, but in keeping with his persona.
While there are lulls, Skinner is entirely at home with them, confident in the knowledge that he's got stronger stuff to come, and that he's already achieved an enviable career and reputation.
The tour is called Showbiz, and although any theme is very loosely applied Skinner does have some classic anecdotes to share, from putting a little tarnish on Bruce Forsyth's avuncular legacy, revealing the backstage secrets of Stevie Nicks, and sharing the very trivial gossip that Elton John dished about Bob Dylan. He might have got a seat in that rarefied world for a while, but he resolutely remains one of us.
In that spirit, he indulges in some mild ribbing of audience members between the prepared routines, which adds to the gently chatty nature and leisurely pace of the evening.
Though he has mellowed, there are sharp punchlines amid the affable anecdotes, no less funny for their muted presentation. And he's not lost his ear for a good double entendre, but they are presented as works of craft rather than with crass ribaldry.
Skinner always had more depths than the hugely successful laddish persona suggested. In Showbiz he gets to engage with any number of disparate topics that pique his comedy antenna and show his flair as a witty, entertaining raconteur.
Review date: 11 Oct 2019
Reviewed by: Steve Bennett
Reviewed at: Guildford G Live
Recent Reviews
What do you think?