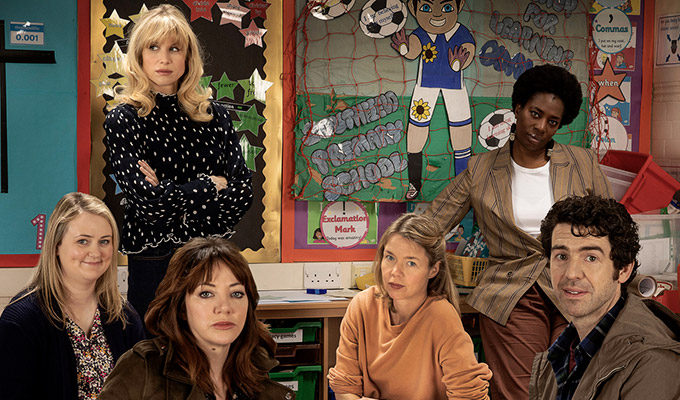 Motherland Series 2
It's a welcome return for Motherland, the comedy that does for parenthood what The Thick Of It did for politics – revealing in ugly detail the stresses and panic behind every hastily improvised decision made by the tired and harassed.
That gap between chaotic reality and the Supermum ideal is thrown into even more dramatic focus in the first episode of series two thanks to the arrival of Meg. With a high-flying job 'more kids than a frog' and a cheery, straight-talking demeanour she's apparently cracked it.
She certainly shows the others how they are failing, especially Anna Maxwell Martin's central character of Julia, ]who starts this run very much feeling she can't have it all. So she's on the cusp of major life decision: whether to accept a promotion – and a substantial extra workload – at her PR job, or go freelance.
On the flip side, the truly appalling Amanda (Lucy Punch) – the self-centred, snobby, user of her friends – is shown up for being the shallow woman she really is in the presence of a real high-flier.
Nothing, of course, fazes the implacable Liz, with Diane Morgan her usual sarcastic, unimpressed self; while token dad Kevin, played as an utterly soppy melt by Paul Ready, is even more nervous and awkward in Meg's company than he usually is.
Of course, any viewer aware of the conventions of sitcom, is likely to be assuming Meg can't really be so perfect and will start wondering what her deal is. And when that secret side is revealed it tears through the episode like a hurricane, adding a wild, slapstick energy to the comedy that's usually a little more subtle in showing the cracks in the facades.
Even if you haven't seen series one – and that's your loss – the narrative crucible of this first episode proves a great introduction to these disparate characters, sharing nothing other than the fact their kids are in the same class.
For a sitcom nominally about parenthood, the kids barely get a look-in. Instead they are often only included as an afterthought to further complicate the messy lives of the parents.
The archetypes of the central figures are all broadly recognisable, the character-driven lines are often hilarious, and the comedy is of the naturalistic type. Even Outnumbered, with its famed semi-improvised lines, had a certain gloss compared to Motherland.
It's a style we've already come to associate with Sharon Horgan, who here co-writes Holly Walsh, Helen Linehan and Barunka O'Shaughnessy, all of whom burnish their reputations, with this classy and funny slice of life.
• Motherland returns to BBC Two at 10pm tonight.
Review date: 7 Oct 2019
Reviewed by: Steve Bennett
Recent Reviews
What do you think?