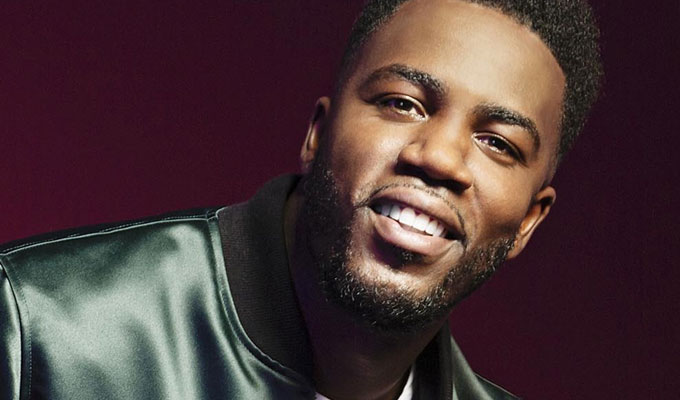 Mo Gilligan: Momentum
Some comedians set themselves away from the norm, others want to show they are just like you.
It doesn't take more than a few moments with Mo Gilligan's first Netflix special to know which camp he's in, so loaded is it with reassurances that the topics he's addressing are universal
'Everyone remembers that kid'… 'everybody remembers this kind of teacher'… 'everybody's mum would always swear… then everyone's mum would say…', 'you've all seen these girls…'
Even if you don't share the memories, he's so insistent that you might convince yourself you do.
As most of those quotes demonstrate, he also roots much of his show in nostalgia, since we have more common experiences in the past than the divisive present. And life is probably more fondly recalled in retrospect, too, evoking a warmer glow when you hear a comic talk about it.
Gilligan is basically a younger, blacker Peter Kay – even to the extent of recalling kids skidding along the dancefloor at weddings, one of the Bolton's comic's signature routines. He also recalls plenty of schoolday events: from teachers losing their rag to the dry monotone of reading aloud in class.
He does have a more contemporary edge than Kay, however, having being brought up by a single mum in multicultural London, with a Rastafarian dad, whom he affectionately mocks, too.
Away from the past, more common experiences revolve around hen dos – and some women's inability to take a compliment – and the uniquely British trait of cheering whenever a glass is broken in public.
The popularity of this sort of broad material is indisputable even if – or probably because – it's of a familiar type. Momentum immediately hit Netflix's top ten in the UK, the audience in the Hackney Empire are clearly loving it, and Gilligan's got to where he is entirely by his own bootstraps, building grassroots support because people like what he does.
As a comic, he's a gregarious, affable and confident guide through the material, exuding the slick swagger more traditionally associated with American comics than British ones.
He's clearly a comedian who thinks big – including when it comes to his own career plans – and that extends to having a six-piece band on stage with him. They provide him a showbiz intro, and are occasionally deployed to help him demonstrate dance moves, whether from aunties at that wedding or more sexually displays at the nightclub.
Towards the end, they come into their own, with Gilligan offering nursery rhyme remixes that Bill Bailey would be proud of. And in a high-impact climax, Gilligan proves himself to be a useful garage MC and grime rapper, culminating in a punchy track based on his 'Coupla Cans' catchphrase that made him famous online.
The unabashedly mainstream Momentum shows that viral moment was no flash in the pan. Gilligan is here to stay,
• Mo Gilligan: Momentum is available on Netflix now.
Review date: 7 Oct 2019
Reviewed by: Steve Bennett
Recent Reviews
What do you think?