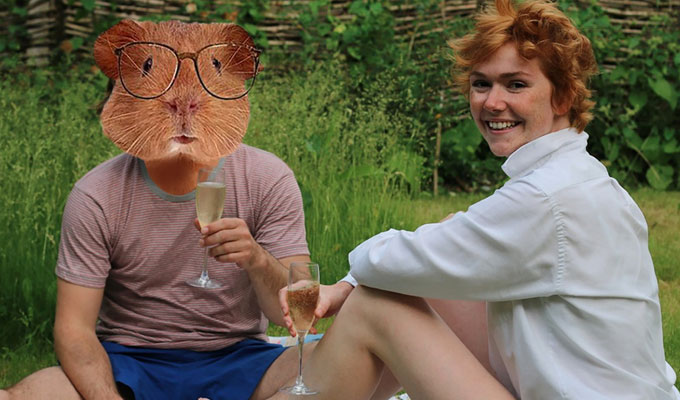 Elf Lyons: Love Songs To Guinea Pigs
She's a comic whose become known for her long-limbed physicality and the sort of buffoonery that can only be honed at French clown school.
But in her new show, Elf Lyons has dipped a toe into (slightly) more traditional stand-up territory. She makes it sound as if it's a reluctant nod to commercial viability – 'mime doesn't work on Radio 4' – but it's much of it down to circumstance.
For after a typically gruelling Edinburgh Fringe last year, the 27-year-old became paralysed in the lower half of her body. During her three-month stay in hospital, doctors feared she'd never walk again, let alone prance around a stage, which is what she lives for. Thankfully, she's recovered enough to perform, while her experiences have given her reason to speak more honestly, with meaningful content.
Although Love Songs To Guinea Pigs sometimes seems like a work in progress – and certainly has the feeling of two separate shows shunted together – the core of the narrative works like a dream, as she pushes her life-changing experiences through the filter of her absurdist comedy.
Adopting the tone of a third person, she offers the criticism: 'Elfie, you hide behind your characters and your silly voices.' Yet here these performance tricks work in perfect concert with her story and her exploration of her feelings towards her body, which she loves as a tool of her work – even if it has turned into a 'sadist' with a string of malfunctions.
So her vagina is voiced as a mewling child; the MMR machine she became very familiar with hilariously reimagined as an insecure, on-edge guy called Martin with an Ed Sheeran fixation.
Voices again come to the fore in the other part of the hour as she talks about the aloof, easily spooked guinea pigs she's adopted, naming them after Echo and the Bunnymen singer Ian McCulloch and Australian cabaret performer Clara Cupcakes.
'Why do they hate me?' she muses, and goes to an online forum to find out, every response vocalised in brilliant comic exaggeration. On the strength of this hugely amusing calling-card routine Lyons could have a strong career in voicing animations.
The guinea pigs which gives the show its title are going to do little to alleviate the lazy journalistic tic of inviting every female comedian to Fleabag, given the role the rodents also played Phoebe Waller-Bridge's story, but Lyons approaches the topic her own way, through the lenses of unrequited love and her own fear of commitment.
She plays a little with the metaphorical used of 'guinea pigs' too, and experiments on us with false starts and doing the ending near the start to get it out the way. Such a scattergun approach offers needlessly unfocussed and unconfident beginning to a show which, in the main, lacks neither quality.
Yes, a few routines could be tightened, especially regarding her new pets, but what wins over is Lyon's witty, charming approach to the tough time she's experienced, accepting the medical hand she was dealt with good grace and a positivity that's pragmatic, rather than cloying.
Her move from the absurd to the personal, without abandoning the sense of silliness that defined the former, can certainly be deemed a success.
• Elf Lyons: Love Songs To Guinea Pigs starts a short tour in Salford on Friday. Dates and tickets
Review date: 30 Sep 2019
Reviewed by: Steve Bennett
Reviewed at: Soho Theatre
Recent Reviews
What do you think?