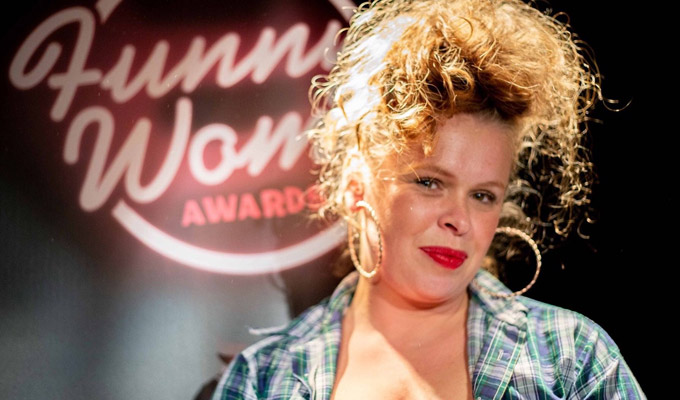 Funny Women final 2019
Note: This review is from 2019
With so much of today's best comedy, especially on TV, coming from women, it seems more ridiculous than ever to think of female-led comedy as a sub-genre. And judging by the impressively strong final in this year's Funny Women award, there are plenty more talented comics waiting in the traps to keep redressing the industry's historic gender imbalance.
It also seems noteworthy that almost all of the finalists in the who took to the stage identified with at least one of the letters in the LGBTQI+ acronym. I'm not sure if it means anything, but as one of the comics, Charlie George, noted: 'No one's straight any more…'
We opened with the double act Shelf, whose alpha member Rachel Watkeys Dowie describes herself as 'exhaustingly gay'. Her delivery is combative and declamatory – a bit Jeremy Clarkson-like but from a totally different perspective – compared her more bookish colleague, Ruby Clyde.
The latter's nerdiness drove their sarcastic, PowerPoint-enhanced song about whether a bad boyfriend could turn someone gay (if true, how are there still any straight women, they smartly counter), while their bafflement as to what heterosexuals get up to culminated in a sketch that was a little too surreal to land. They've got some good ideas and potential aplently, but a slightly brusque approach puts distance between them and their audience.
Helena Langdon displayed assured control over her material, happy to hold a pause with skilled timing. Kicking off with a deliciously contrived pun, she's clearly interested in language – as displayed by her frustration at the imprecision of the word 'dusk', which she laconically pulls apart.
There may be few fireworks in her routine, but it's quietly classy, especially in the writing – one tired, if nevertheless still effective, joke format notwithstanding. She's a relative newcomer but likely to go far.
Punchy, slick and accomplished, Californian Liz Guterbock offered a brisk and funny take on transatlantic differences. She largely avoided clichés, though, even if her way of being upbeat and confident as compared to low-status Brits with low self-esteem played exactly to national stereotypes.
Her zippy performance – including a solid English accent – is refreshing, and the gags are breezily amusing. A club-ready act, for sure.
Charlie George had so much to unpack in her few minutes on stage. She's the half-Asian daughter of a blonde-haired blue-eyed Jehovah's Witness mum, with a thoroughly entertaining tale of teenage dating embarrassment.
She offered a pacy, energetic performance of engaging material liberally flecked with wry, savvy lines hinting at insecurities behind the charismatic on-stage persona. It makes for a triumphant package, and secured her third place.
Silver went to the act that followed her, Sian Davies, whose droll, widely relatable observational material puts an insightful spin on the everyday. Plus she has an enjoyably groan-inducing pun as an opener, which is always welcome.
Simultaneously warm and sharp, she's what Jason Manford would be if he was a Liverpudlian lesbian, with a broad appeal and snappy jokes as she speaks about sliding into comfortable middle age at 37. Strong stuff.
She could only be beaten by Laura Smyth, a blunt-speaking East Londoner with a real force-of-nature personality who ripped through the Bloomsbury Theatre like a tropical storm.
Her edgy style is immediately established with an uncompromising joke about the McCanns (though she maybe returns to this topic a little too often). This sets the tone for her brutally honest ribbing of her kids, her friends and herself, largely intolerant of niceties and affectations.
In cold analysis, others tonight had better material – but no one could match her for a larger-than-life personality and livewire performance that battered the audience into laughter. Her prize is mentoring from Jo Brand, whose dry delivery might prove a fruitful contrast - though both comics are as sarcastic as each other.
Jen Ives speaks about being transsexual, but only briefly, as there are other items on her progressive agenda, too, such as trying to get her former Millwall football hooligan dad into women's soccer, with limited success. Her wokeness has its limits though… as veganism is a step too far, even for her.
She's another assured presence on the stage, with a clear image of herself and her droll sense of humour – and if she didn't quite stand out tonight, that's testament to the strength of the other acts on the bill.
Sarah Mann seemed unlucky not to be placed with a rewarding and funny set. Rather than just a selection of unconnected jokes, she engineered a coherent routine about her other job as a trombonist, and where that's taken her, building organically one gag at a time.
There's a nice jab at misogyny en route, but primarily this is an engaging, self-deprecating story – including amusingly mocking her own difficulties pronouncing 'cruise ship', as she tells of her efforts to find an outlet for her peculiar skills.
In contrast to Mann's measured delivery, Kemah Bob bounced onto the stage in a fizzle of a sparky energy, quickly announcing herself as bisexual – not always the most popular subdivision of the LGBT community, she claims – and bipolar.
That subject matter, and her lively, skittish approach to it, calls to mind Maria Bamford without the exquisite characterisations – although a re-enactment of having her IUD coil removed is very funny through her physical re-enactment.
Given her condition, it might be churlish to suggest Bob hasn't focussed her appealingly livewire personality into the most coherent and effective set, but she's hugely watchable with obvious funny bones. The free-spirit attitude makes her effortlessly likeable even on potentially contentious subjects.
And finally to Celya AB, who brings all the dry superiority of the stereotypical Frenchwoman to bear on her new life in Birmingham. She's got some great jokes – her excuse for wearing a maternity dress especially funny – and unusual background to draw upon as a bisexual French-Algerian from a Muslim family.
A comment about most comics being 'white men in tartan shirts' seemed slightly muddled, especially in a night celebrating the alternative; and a story about forging her dad's signature was predictable.
In the scheme of things, these are minor quibbles – but again for a final where the bar is set so high, even the most minor of missteps is enough to make the difference. But she's clearly another strong comic on a line-up full of them.
Review date: 20 Sep 2019
Reviewed by: Steve Bennett
Reviewed at: Bloomsbury Theatre