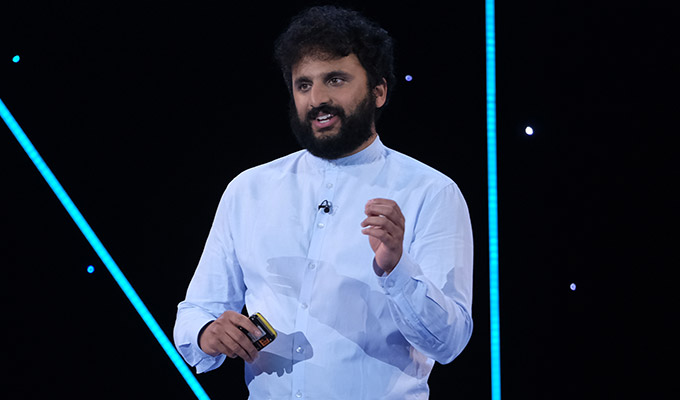 Comedians Giving Lectures
It doesn't take a right-wing newspaper columnist pining for the past to notice that comedians have increasingly adopted the mantle of activists and educators, not just entertainers. Certainly, plenty of stand-up shows owe more to TED Talks than Ted Ray (ask your granddad). In which context, Comedians Giving Lectures feels like a format whose time is overdue.
Host Sara Pascoe addresses the issue when introducing the first guest Nish Kumar – a comic who's no stranger to accusations of being a polemist and a preacher more than a funnyman.
'So your stand-up's quite lecturery,' she teased him. 'Are you going to stick in any jokes tonight?'
Of course he does, when tasked with the challenge of delivering his thoughts on 10 Ways The World Could End. Like every talk in this series it was originally the title of a genuine lecture, in this case a TED talk given by technologist Stephen Petranek in 2002.
Trying to avoid the inevitable talk of climate catastrophe, Kumar's list includes a savage, if unsubtle, parody of Brexit fantasists likely to delight viewers of the Mash Report. His conclusions are judged against the real existential threats facing humanity by a genuine expert in the field – as if that were the point. And later by the studio audience, too, on entertainment value.
Such business gives Pascoe something to do, but she's still underused: the structure of the show means she's mostly absent as the guest comics say their pieces. But her contributions tend to be as cheerily wry as you'd expect.
The other lecturers in this opening episode are Natasia Demetriou, who starts of a little wooden as she shares some cheapish gags on 'the anatomy of a vagina', including euphemisms aplenty and calling James Corden a twat. But she finds more playfulness and confidence as she warms to her theme of wanting a doodled vagina to become as silly and ubiquitous as the universally deployed cock-and-balls sketch.
Finally, Tom Allen offers a nicely unexpected subversion on the technology behind such 'comedy by PowerPoint' to give an extra dimension to his take on Why We Make Bad Decisions… which in his case primarily seems to be an ill-advised obsession with Denise Van Outen.
This is not a high budget show – the set is so cheap it comprises a few neon tubes that looks like they've been recovered from a 1980s nightclub called something like Jewelz undergoing a long-overdue facelift.
So with the participants having to knock out a custom routine for presumably very little money, comedy gold is relatively hard to find. But it's nonetheless a fun and diverting half-hour of post-Taskmaster entertainment.
• Comedians Giving Lectures is on Dave at 10pm tonight.
Review date: 18 Sep 2019
Reviewed by: Steve Bennett
Recent Reviews
What do you think?