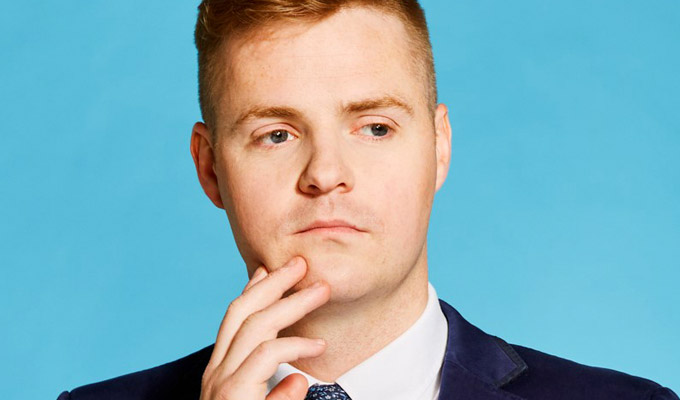 Tom Ballard: Enough at Soho Theatre
Tom Ballard was, for a while, a big deal in his native Australia, He was host of the topical TV show Tonightly, which he likens to The Mash Report but for two key differences: his programme was daily not weekly. And people actually watch The Mash Report.
If you're a fan of Nish Kumar, Ballard is working in the same space, with theatrical howls of rage against the inequities of a global system so ridiculously stacked against his generation.
This powerful hour filters that millennial fury though a myriad of base jokes and embarrassing anecdotes, while effectively stressing how laughable capitalism has made everyone's life.
Baby-faced Ballard professes to be a fan of Dolly Parton's 9-to-5, with its savage, depressing indictment of the capitalist system embedded in a jaunty ditty that 'we sing at weddings'. He is the comedy equivalent, concealing a revolutionary socialist message in an easily digestible hour of belly-laughs, delivered with a rage-against-the-machine fervour.
In Trojan Horse routines, the 29-year-old has relatable stories about UberEats, Facebook and dating apps, which turn into incisive commentary about how his generation has outsourced almost every aspect of living to transnational corporations. Him breaking wind on a packed London Underground carriage turns out to be an analogy for capitalism. OK, that may be a push, as he cheerfully concedes, but he makes it work.
Although he's a powerful orator, there's strong streak of self-deprecation to soften the message. We are all ridiculous for accepting the status quo, himself included, and he amusingly portrays himself as a cartoon villain, monetising the joy of laughter – just the latest in a series of preposterous jobs. But then aren't all jobs preposterous?
It feels like the opposite of aggrandising comedy, with stories of his idiocy diluting any messianic tendencies. But it's all performed with such charisma and power that he could start a cult and most the audience would sign up.
His passion spills out into a hugely physical performance, either consumed by the unfairness of a broken system, or simply in acting out hypothetical scenes with utter conviction. His outrage arcs over the hour, too, so that by the end, he's broken and bedraggled – but defiant.
Ballard also works well within the moment, including indulging in some wonderfully inappropriate flirtations with a lad who turns out to be just 18, adding a jokey frisson to the intimate room.
In the bigger picture, he accepts he's been lucky – supportive middle-class parents and that lucrative, if short-lived TV job that gave him a leg-up. But even with his relative success, home-ownership is an unimaginably unaffordable luxury, a situation that explodes into a magnificently inflated comic rant against baby boomers, combatting their every criticism at his generation being avocado-loving snowflakes with a potent, righteous ire.
We are likely to be seeing more of Ballard in the UK. During the show, he reveals that he's now in the country on a two-year working visa. With Westminster generating so much raw material for political comedians, his incandescent voice will be a valuable addition to the choir of protest.
• Tom Ballard: Enough continues at Soho Theatre at 9.30pm until Saturday
Review date: 3 Sep 2019
Reviewed by: Steve Bennett
Recent Reviews
What do you think?