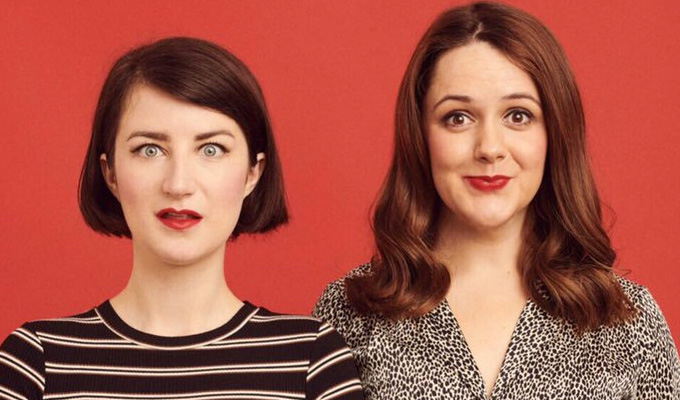 Stiff & Kitsch: Bricking It
Plenty of Fringe shows pick up the thread of a previous hour. Yet Stiff & Kitsch distinguish themselves for routinely cringing at their bad behaviour from last year's Pleasance closing party.
Such feelings of guilt and shame are symptomatic of Sally O'Leary and Rhiannon Neads' existential wobbling, as they relate their perennial anxieties and discuss another celebration they prepared for that might have gone either way: Neads' organisation of a mini-break for O'Leary's 30th birthday.
Endlessly self-deprecating and close to the point of sharing infectious diseases, the singing duo are most clearly delineated by the Irishwoman's relationship with her large family and body image, and her English friend's strained contact with her father and insecurity about her nose.
Even when the intrusive, mean-girl voices in their head join them in four-part harmony, they're perkily upbeat, slapping on rictus grins to beam through the meltdowns. Stars don't behave in such a sloppy manner, they kid themselves, before tossing away millennial concerns with the happy realisation that the older they get, the fewer things they'll probably give a fuck about.
They treat themselves to the luxury of a night in with a pampering tune that is essentially an ode to giving up. And they mock the naivety of youth with occasional references to Michael Jackson, temporally locating events just before all that unpleasantness came out, their regression to their childhood bedrooms a mere blip as their body clocks tick ever louder.
When it arrives, their ill-planned trip to Seville is further drama. But it does at least allow them to show off some flamenco moves learned, but otherwise wasted, from drama school. Privilege is acknowledged and silver linings are found.
Even taking into account the fact that this is a light-hearted, easily absorbed variation of the ubiquitous mental health show, the pair's duets still seem too samey and indistinct in style to sustain interest for the entirety.
With their habit of repurposing review quotes, one hesitates to judge them too harshly. Not least as they have fine voices and a wild side, as previously established. But in daylight hours at least, Stiff & Kitsch only seem mildly troubled and perfectly pleasant, an undemanding afternoon listen that would probably play very well on Radio 4.
Review date: 24 Aug 2019
Reviewed by: Jay Richardson
Reviewed at: Pleasance Courtyard
Recent Reviews
What do you think?