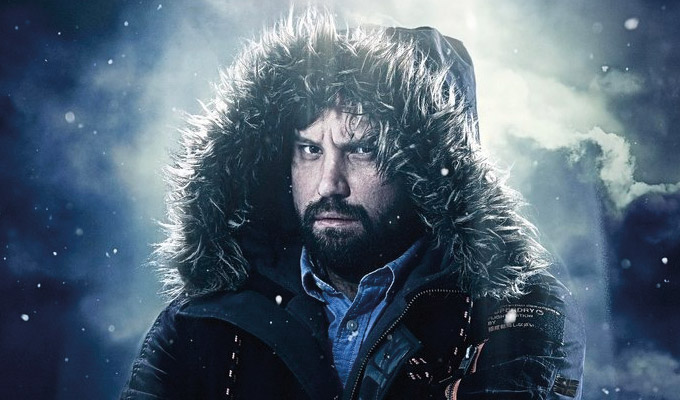 Naz Osmanoglu: Scandinaveland

Nordic noir and true crime podcasts are popular themes at this year's Fringe – and Naz Osmanoglu sends both up in this schlocky spoof, set amid a composite of Scandinavian clichés.
But the greatest mystery of this whodunit is: will Osmanoglu maintain that strangulated, Muppets-chef accent for the entirety of the show?
The beautiful Vera Lund has been butchered in grisly circumstances, the murderer has pledged to kill again, and it's up to depressed detective Lars Johansson to crack the case.
Married to the job, he neglects his beautiful wife and son. A media celebrity, ready with a mangled sound-bite and tendency to contaminate a crime scene, he's a Laughing Stock to his colleagues and mocked for his inability to find the killer by a simpering US millennial podcaster, Bryan. His suspects tend to be over-sexed, prone to casual nudity and invariably, beautiful. And his regular partner, his anthropomorphised Hunch, is away on holiday, living it up in the Caribbean.
Osmanoglu plays all of the characters and perpetually breaks the fourth wall. Having to whip his heavy winter jacket on and off in his warm venue is the most visible aspect of his self-damning exasperation, as he berates his shoddy props and persecutes himself with plot points that require him to exhaust and humiliate himself.
How much of this is done for comic effect and how much is genuine self-admonishment over the foolishness of the enterprise blurs as the hour progresses.
The audience is involved up to a point, with a rather half-hearted call for Chubby Checker grooving at every signposted twist. Or when Osmanoglu throws his characters' blasé inhibition about their bodies into the front row's faces. By some distance, the funniest creation is a local landowner, so Free and Easy with nudity and his affections towards his animals, that his low-swinging penis is prominently mimed.
Osmanoglu has some fun sternly delivering genuine Swedish sayings that sound like nonsense to British ears and foregrounding Johansson's weary self-awareness of the television conventions he's subject to. For less obvious reasons, the comic also breaks up the narrative by forcing the detective to the indignity of delivering commercials for crappy products.
Even by the standards of the parody genre Scandinaveland's plot is weak, more-or-less a linear parade of often indistinct archetypes, with clues and leads given little thought. The killer's follow-up kill seems forgotten about until the end. And the identity of the murderer ought to surprise no one from the very moment they're introduced.
Whether introspectively morose or animatedly frustrated, Osmanoglu remains as game and charismatic a performer as ever. But he's under-served himself with a thin script here.
Review date: 24 Aug 2019
Reviewed by: Jay Richardson
Recent Reviews
What do you think?