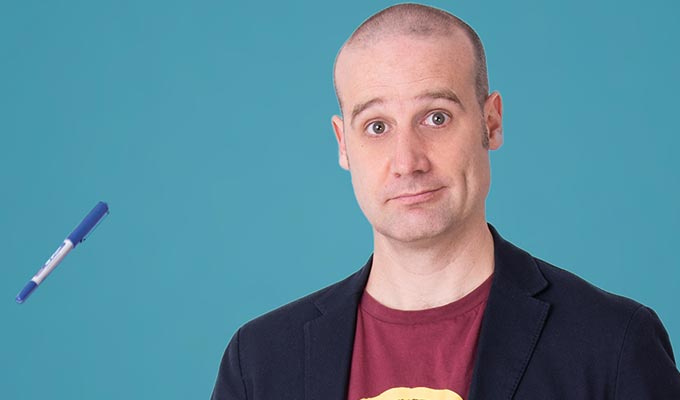 Matt Parker: Humble Pi
Oh, how I'm tempted to award this show n stars, to represent any whole number you like, just because Matt Parker encourages just that sort of mucking about with maths in your everyday life.
He starts with a Venn diagram – of course he does – to illustrate just how his show contains maths and comedy. But the audience is definitely in the overlap. For although he brings his subject to life with amusing examples and witty presentation, it's hard to see those who aren't nerds on some level buying tickets. His demographic is mainly programmers, he quips.
Yet it ought to appeal wider, as this cheerily affable former teacher makes everything fascinating and understandable, while his excitement about numbers – or the joy of sets – is infectious.
Drawn from his new pop science book of the same name, Humble Pi is a collection of stories about things that have gone wrong in the real world because of a mistake in the maths. That ranges from the trivial – Pacman crashes on level 256 because of the way computers store numbers – to the catastrophic. When you fuel your Boeing 767, you really need to know whether you're using litres or gallons.
Parker – one-third of The Festival Of Spoken Nerd – explains what went wrong in all these cases with clarity and an engaging awareness of his own geekiness, further making the maths accessible. And there are rewards for the astute, such as the fact his catalogue of errors is numbered from nought rather than one because he prefers the zero-indexed lists that programmers use.
He's got some tech to help him, including a giant PacMan screen, and a laser display – going one better than the PowerPoint that every comedian and his dog now has. It turns out to be a very expensive way of making a cheap joke. The trouble he's gone to is exactly what makes it funny.
Continuing with the engaging gimmicks, Parker gives us a 2-for-1 section as he tries to pack too much information into the hour and a lovely illusion that's all the better for him barely drawing attention to it.
The result is thoroughly entertaining, though if we look on the comedy side of that Venn diagram there's a slight shortfall. For each story that Parker explains naturally requires quite a bit of exposition, and although he sneaks in puns and in-jokes, he's never going to hit a relentlessly hilarious pace.
But if you're curious about the world and want to celebrate our understanding of it at the hands of a warm and enthusiastic host, should you buy a ticket for it now or on tour? Well, you do the maths…
Review date: 23 Aug 2019
Reviewed by: Steve Bennett
Reviewed at: Pleasance Dome
Recent Reviews
What do you think?