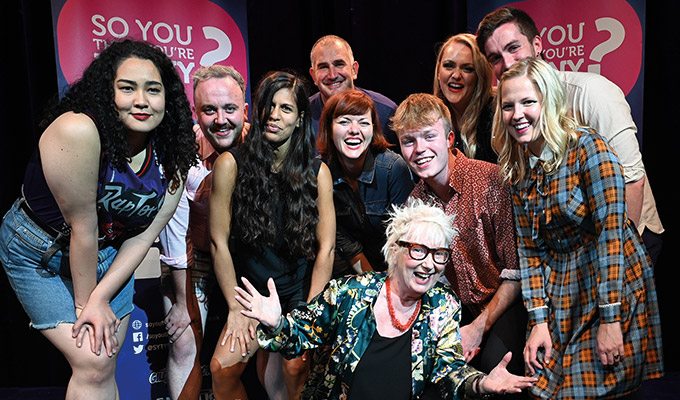 So You Think You're Funny? Final 2019
At 32 years old, So You Think You're Funny? has been going for much longer than most of last night's finalists have been alive. But while it's the most established, the stand-ups it showcases are the least established, looking for baby comics in their first year or so of comedy.
Inevitably that means many are unpolished with judges wit (including Jenny Eclair, pictured above with the finalists) looking for potential more than anything else. But this year's crop were a fairly assured bunch.
That's certainly true of Fady Kassab, who has you hooked from his first sentence when he reveals he lived amid the Lebanese war for 17 years. And he has you laughing in the second with a cracking joke about the invading force.
That set the tone for his set: proper gags – often puns – and a backstory you want to hear. Whenever he performs his solo festival debut, the publicity will sort itself out. One or two of the tales fizzle out, but Kassab, now living in Australia, has got the confidence of a man unfazed by a comedy gig after he's encountered Israeli tanks. Maybe it was because he was in the dreaded first slot, but he can think himself unlucky not to have placed tonight.
Charlie George grew up in a hostile environment, too: Swindon. And her ideological enemy was her mum, a Daily Mail-reading Jehovah's Witness. George has a dark sense of humour about this upbringing, as well as a wry take on her ethnicity.
She opened with joke about a strap-on, which was uncharacteristically cheap. But the bulk of her set – about teenage sexuality and the angst of knocking on the door of a girl she fancied to try to sell the religious magazine The Watchtower – was more personal, engaging and funny. It secured her second place.
In her denim jumpsuit, Claire Haus comes out looking like the Rosie The Riveter of comedy. That, and her instant sass, suggests she's ready to get down to business.
But her material couldn't match her winning attitude, with a chunk on astrology struggling to land, despite all she put into the act-out of the planetary forces tugging at a newborn. Haus is an Aries, a sign known for defiance, and she ploughed on undeterred . But the punchlines on this and another routine about being tall didn't zing. It just didn't seem to be her night, for all that she exudes confidence.
Speaking of defiance, 2019 Chortle Student Comedy Award winner Erika Ehler does not give a single inch to the audience. She hits the material immediately, no introductions, no 'how we all doing?' icebreaker. And within a minute we've covered murder, depression, suicide, major tragedies and a punchline about a dry tampon. She's uncompromising, to say the least.
Ehler may have missed a trick in not putting the second part of her set first as speaking about a breakup, however harshly offers a more accessible route into the savage material for the audience. But maybe that would have dissipated her obstinate 'take me or leave me' vibe.
Another more technical mistake, born of inexperience, is that she had an exchange with a woman in the front row that generated laughs, but not among the audience out of earshot at the back of the room because Ehler didn't repeat her comments into the mic. That notwithstanding, she's another act that was unlucky not to find herself on the podium with this highly polished, yet still abrasive, material
Ireland's Shane Daniel Byrne wasn't such a complete package, with uneven material and delivery. Yet there's a nub of something different to his treatment of political issues such as Brexit and same-sex marriage as if it were over-the-fence gossip.
A little too much of his act is stating what happened in an excited camp, and he laments the days when being gay was enough to make him interesting on its own. Now equality's been legislated for, where's his cachet? He was a little too rough around the edges for me, but he's got verve for sure and seems a little different, and the judges awarded him third place.
Bryne's countryman Denis Len was notably more relaxed in his delivery, which probably undersold the whimsical descriptions on which his set is based – from the no-frills hotel to his small Irish town stuck in a time that lattes forgot. Describing how he thinks his flat is haunted has a good payoff, too. He's a little verbose, but a useful writer once he finds his focus.
Kate Bancroft makes a strong first impression, riding the silence once the applause dies down before puncturing it with a well-judged self-effacing line. While her quiet confidence is appealing, not all the material lands – a state of affairs not helped by the fact she was the second North American comedian tonight to talk about her star sign.
She signed off with several haikus. It may have been her phrasing, but she seemed to take some liberties with the precious rhyme structure. In any case, this seemed to be just a convenient container for fairly pedestrian material, with a couple of notable exceptions. Oh that the material matched her attitude!
Finlay Christie's material had immeasurably more polish. He began by drawing attention to his youthful looks by making witty linguistic distinctions between what it is to be a boy and a man. The well-practised routine comes with physical flourishes to underline the jokes, while he holds a crucial, long silence for just the right amount of time to thwart people trying to figure out the punchline for themselves. Demonstrating attention to detail, the word 'boy' popped up in a couple of later descriptions of himself, satisfyingly.
Further imaginative wordplay closes off a wry routine about his whiteness, while a gag about student party games was slightly derailed by a heckler preempting the punchline. Who heckles a new act final? He tells, too, of losing out at a place at Oxford to Malala Yousafzai, an impossible ideal to live up to. She may have a Nobel Peace Prize, but does she have a So You Think You're Funny? trophy. Christie now does, and his first place was well-deserved.
Finally Kate McGann, who has quite the stage presence and not because she's a tall woman (the second on the night, in another unfortunate coincidence of two comics finding similar ground).
There's a swagger to the way she strides the stage, and to the way she celebrates her busy sex life as a happy singleton. Although, save for the odd exception, the punchlines were simple statements of unvarnished truth rather than presented with much comic twist.
In performance and writing she staggered between being loose and being controlled, but fell between the two. I suspect that as she grows in experience she will become more of a wild force-of-nature performer, using her confidence and charisma to dominate a room. Tonight, in possibly the biggest gig she's done so far, she was too restrained, which exposed the limitations of the writing. But we will be seeing more of her.
Review date: 23 Aug 2019
Reviewed by: Steve Bennett
Reviewed at: Gilded Balloon Teviot
Recent Reviews
What do you think?