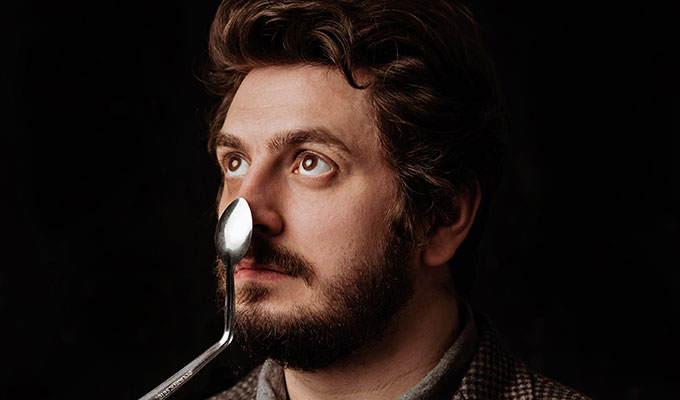 George Rigden: Spooning With Uri
George Rigden has a remarkable tale to share, not least because it continues to develop by the act of him sharing it.
The basics of the story as he tells it are that as a lonely, bullied 14-year-old, he was a keen autograph hunter, writing to countless celebrities – including self-proclaimed psychic and renowned spoon-bender Uri Geller. They struck up a correspondence, writing daily and chatting for long periods on the phone. Geller, 56 at the time, sent the teenager his young adult fiction and self-help books.
Ultimately, Rigden was invited by Geller, chairman of Exeter City FC at the time, to attend a match with his family and meet him. With Rigden having nary a good word to say about his father, he strongly implies that the celebrity was at least partially fulfilling a paternal role.
However, when the issue of stars' friendship with young fans hit the headlines, Geller suddenly cut all ties and Rigden never heard from him again. Till he started previewing this show…
For Geller disputes Rigden's account, despite the evidence the comedian produces.
Reflecting, the comic can acknowledge that his friendship with Geller was bizarre. But at no point does he suggest that it was ever anything other than that, characterising the older man as self-obsessed yet attentive, odd and staggeringly naïve, even in a more innocent age. Nevertheless, it was, he argues, a genuine friendship. And psychologically, it cut deep when it ended.
Naturally, this being a stand-up show, Rigden initially makes light of his pain, cracking spoon gags and suggesting that, despite his relative anonymity, he has his own notoriety – if you'd be so kind as to not check the internet.
Disdainful of the crowd, Rigden's vengeful rediscovery and mockery of his school bully is an excuse for him to be an absolute arsehole, in a deliciously nasty prank which echoes towards the end of the hour.
As an aside, it'll be interesting to see which comedian, through a publish-and-be-damned recklessness, will be the first to feel the repercussions for naming a tormentor from their past. We've had Louise Reay's ex-husband claiming violation of his privacy. And it's doubtless just a matter of time before an alleged bully seeks their redress.
But I digress. The spectre of Operation Yewtree looms unavoidably over the start of the show and Rigden has plenty of sadistic fun with it, flicking through the wrong 'uns gallery in his autograph book.
To reiterate though, he never once insinuates anything untoward about Geller, beyond a lack of sensitivity towards his adolescent feelings and guileless innocence unbecoming of a man who can supposedly read minds.
Growing ever stranger, right up to the end, where his story becomes too weird to process, Rigden is to be commended for making this as funny as he does. Just one of the more bizarre aspects of the discombobulating finale is the apparent involvement of the UK's Prime Minister. (On a side note, it seems he's a terrible judge of character, so that bodes well for the Brexit negotiations.)
Throughout the show, Rigden's thinly-veiled arrogance is underpinned by some ever-present, spiky vulnerability; his sniping humour the consequence of some unique abandonment issues.
As origin stories go, Spooning with Uri is an absolute mind-bender.
Review date: 22 Aug 2019
Reviewed by: Jay Richardson
Reviewed at: Just The Tonic at The Caves
Recent Reviews
What do you think?