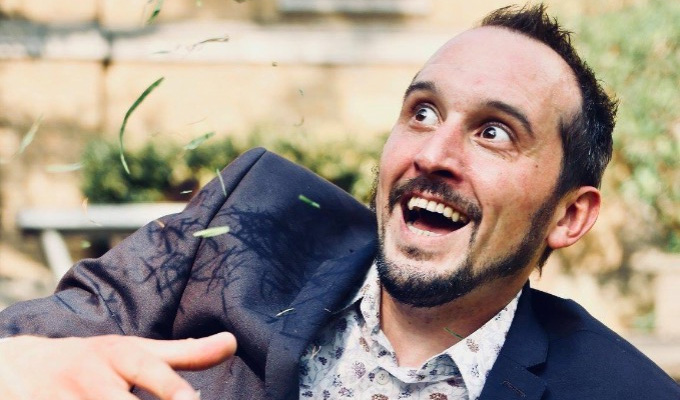 Phil Ellis: Au Revoir
Note: This review is from 2019
In his sixth year at the Fringe, Phil Ellis is deploying the Gasby Gambit: announcing that he's quitting comedy because he's disillusioned with the industry.
But in his case the disenchantment comes not from artistic limitations, but because he's bitter that his career hasn't taken off. After all, he's 37 years old and playing a disused nightclub still haunted by the acrid stench of stale vomit – and not even in the main room.
So, like Hannah Gadsby, he's going to have one final throw of the dice. He's going to abandon all his instincts to 'be a dick for an hour' and instead stare deep into his navel and ask: 'Why did I become a clown?'
Spoiler alert: his sincere creative intentions don't entirely survive the hour… or, in fact, much beyond the deliberately ham-fisted metaphor that's one of the best opening sections on the Fringe.
Ellis' earnest attempts to delve back into his childhood to explore what made him be a comedian are doomed to failure, thanks to his constant digressions. Many lament his miserable existence – abandoned by the loves of his life and reduced to a grim house-share. It's hilariously bleak, having all the pathos of those soul-baring shows but wrapped in real belly laughs, not maudlin awards-bait.
Then there are interactions with the audience (Ellis always seems to attract his share of disruptive dickheads, but he's got the circuit-honed skills to deal with them) and his battles to get the presentation right. Whether the projector will hold out enough to show footage of his first gig, which causes him to cringe now, is a big question. Fellow comic Che Burnley, who's doing the tech, has to keep pushing him to keep to time.
Despite, or perhaps because of, the best efforts of his co-stars – Ruth E Cockburn and Jacob Hawley – the hour descends into chaos. But what hilarious chaos, as Ellis struggles to control the show just as much as he struggles to control his own life.
Bits of his sob story peek though: the dead gran, the paedophile neighbour, the fact he only got a third in media production from Stafford University… He mocks all of these, clearly thinking it ridiculous to find a single inciting incident that's made him the desperate figure he is today. Yet also exploits each of them for all they're worth.
Though Au Revoir is big and dumb, with laughs from broad slapstick and the unravelling of a man's dignity, there are complexities beneath, with ambiguity about what's really going on and the blurring of the lines between the comedian's real life and the caricature version he's created.
This is Elli's most successful attempt to ride that madness since the award-winning Funz And Gamez. If he's really quitting, we'll miss him. But the more pressing question is what the hell will he do instead? He's got no transferrable skills, but the talent to conduct a boisterous hour of hilarious bedlam.
Review date: 22 Aug 2019
Reviewed by: Steve Bennett
Reviewed at: The Hive