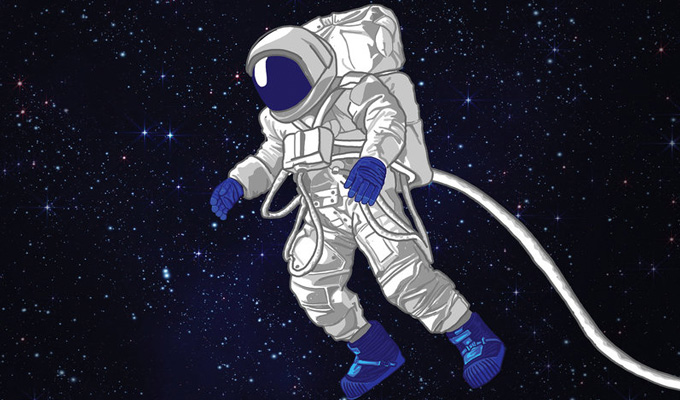 Isa Bonachera: The Great Emptiness
Isa Bonachera has spent her life gazing at the stars... when perhaps she should have been looking for happiness on Earth.
That's the subtext of this show, in which the Spanish stand-up celebrates her geekiness, but is also self-deprecating about the extremes to which she has gone to sate her obsession. Despite the underlying subject matter, the science content is relatively low – a few 'fun facts' notwithstanding – even though the similarly nerdy audience would surely lap up more. Did you know the galaxy's core is essentially raspberry daiquiri?
Dressed in a low-budget spacesuit, Bonachera tells us how she always dreamed of becoming an astronaut – ever since she saw a Muse pop video, anyway. Pursuing that dream led to a career in science that has taken her to the Large Hadron Collider, the US, and the European Space Agency, where she wound up in a lonely and desolate observatory every night.
She eventually fell out of love with the subject, but nevertheless her puppyish enthusiasm remains undimmed as she recounts her experiences. Sweet and friendly, if shy and insular, is the vibe she gives off. That's amplified by her heavy accent, which underlines the sense she's an outsider – an image she plays up to with her quirkier material.
Her subdued otherwordliness does mean some of those peculiar ideas just float away like a object tumbling through the nothingness of space. But there are plenty of jokes, or simply funny ideas, that do make a successful splashdown.
Outside of the science, Bonachera speaks a lot about being a desperate singleton. But when it elicits a sympathetic 'awww' from the audience, she jokingly berates us: 'Don't make that noise'. She's owning her isolation, even if there's little confidence to make that convincing.
That she's still single means her story lacks closure in this key area – damn the vagaries of real life! But she can explain that she has replaced her fixation on space exploration by a new passion for stand-up. And in this, she's bringing a new, askance viewpoint, even if the material's not consistently focussed yet.
But I'm sure she'll crack it – after all, it's not rocket science.
Review date: 22 Aug 2019
Reviewed by: Steve Bennett
Reviewed at: Gilded Balloon at Old Tolbooth Market
Recent Reviews
What do you think?