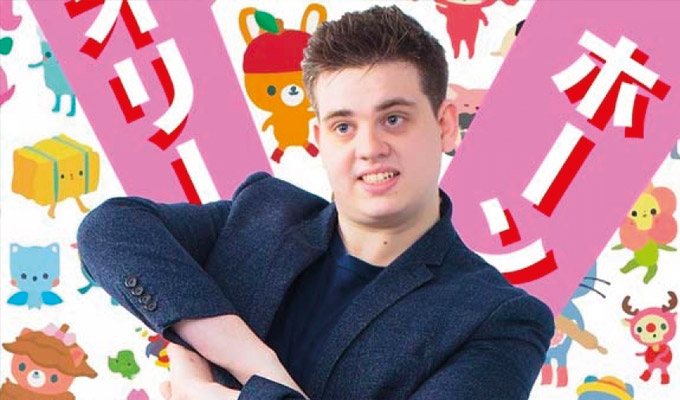 Ollie Horn: Pig In Japan
Note: This review is from 2019
Distilling the best part of four years spent living in Japan into an hour ensures Ollie Horn has some amusing stories, which he tells skilfully – even if he misses the stronger resonances he's aiming for.
He flew out there on a whim after a law degree – lured by the chance to do some postgraduate work funded by the Japanese government – and immediately found himself a stranger in a strange land, unable to speak the language.
Shooting higher than merely joking about cultural differences Westerners might think peculiar, Horn instead plays up to the notion that for once in his life he was the outsider, with all the privilege he'd been used to in Britain stripped away. He likens his new situation to that of his friend who was virtually the only black person in his university, while admitting that he found the experience of no longer being able to complete the simplest of tasks because of the language barrier infantilising.
Horn's idea of lack of privilege might not quite be the same as everyone else's, mind. Demonstrating the sort of luck that seems to come naturally to white Oxbridge graduates, he fell into a job as a broadcast journalist and bit-part actor despite not speaking Japanese. Talk about failing upwards.
The outlandish things he would do for money – from making up fake facts about the UK to demeaning himself on cheesy adverts – is the bread-and-butter of Pig In Japan, mixed with a few obscure cultural observations, from the optimism of 'out of order' signs to the unexpected ubiquity of fried chicken. His tone is of admiration for their quirks, rather than laughing at the strangeness of it to his eyes.
Horn's clips are funny, and he exudes a nice-guy charm, describing how he felt out of his depth from this now safe distance. After a slightly wobbly start, in which he talks rather too quickly, Horn regales us with his anecdotes with a measured beat, animating with his hands and upper body to add small but effective emphasis.
What he's not quite nailed is quite enough vulnerability to allow us the most empathy with his plight. The story's a bit too well-rehearsed and only one tale – about failing to get into a restaurant – directly conveys how isolated he felt. He tends to tell us, rather than show is.
Horne also perhaps needs to foreshadow his family ties and his search for love so they have more impact when they emerge at the end. And you can't help but wonder what effect his temporary experiences of being 'other' have had on his worldview now he's back in the UK, which again he doesn't address.
But even if it can be materially slight, Pig In Japan offers an hour of charming storytelling and amusing self-deprecation.
Review date: 21 Aug 2019
Reviewed by: Steve Bennett
Reviewed at: Just the Tonic at The Mash House