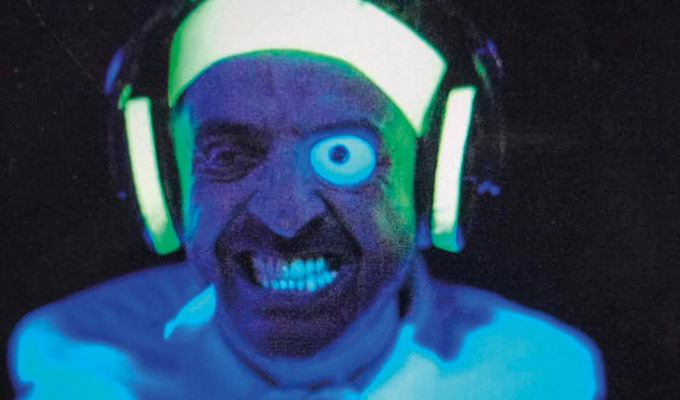 The Spencer Jones 50 Minute Disco Experiment
Music has always been such a big part of Spencer Jones's Edinburgh shows, so it makes perfect sense that he should branch out into this unique gig/club night – even if making perfect sense is not exactly on brand for this cheery idiot.
A loop machine is the cornerstone of this muckabout performance. Jones can't beatbox so instead he lays down foundations with pleasing turns of phrase. And that makes it very easy for the crowd in this perfectly intimate, low-ceiling concrete bunker to sing along. From the very start, we're merrily chanting 'borderline racist' as the chorus to the first track.
There are cover versions too, including a properly anthemic mash-up of Primal Scream, Beck and the Rolling Stones, plus another chant-along: Caravan Of Love.
Guests include Joe Jacobs, a recurring mainstay of the show given that he can properly rap, and has a track to cover any decade you'd care to mention. Even the 1890s.
Pat Cahill's signature number, a tumour-riddled dog that 'is not in any immediate pain', is more positively whimsical than the subject matter might suggest, so and still has the crowd bouncing along.
But Sarah Callaghan's earnest slam poem about pirates that became a rallying cry for direct-action political resistance slowed the gig, since it's hard to dance to. But it was certainly appreciated, as the hearty ovation it received proved.
This was the only moment the event was more performance than gig – as music is always at the fore, however witty the rhymes on stage. For an extra sense of fun, Jones hands his trademark ping-pong-ball eyes around the audience. The room became a sea of phones to capture the silly visual of everyone suddenly having the pupils of a fierce coke fiend. This is how you had to do things before Instagram.
One big complaint, though, was that the show did exactly what was advertised. Because why only 50 minutes? You could party all night with this crew.
Review date: 21 Aug 2019
Reviewed by: Steve Bennett
Reviewed at: Monkey Barrel Comedy Club
Recent Reviews
What do you think?