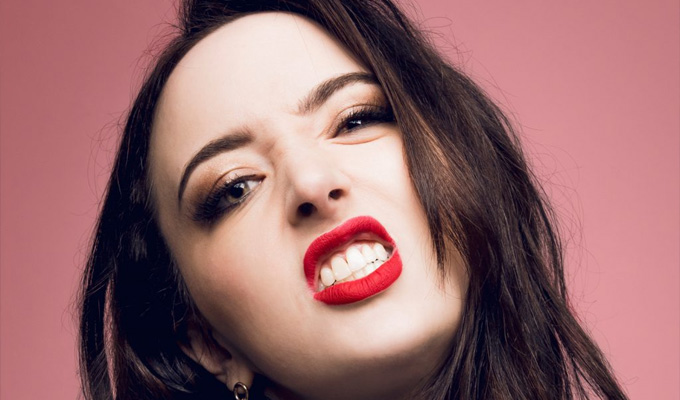 Fern Brady: Power and Chaos
With her fourth Edinburgh hour, Fern Brady shows she can knock it out the park even when she's suffering from laryngitis. Despite not being at full throttle, the strength of her writing and her utter conviction in it pulls her through. It's impressive stuff.
Much of Brady's material is underpinned by the idea that she has to fight to be who she really is, without being labelled by others. She resents being described as 'Scottish' in the press and doesn't want to get sucked into being a Scottish comic cliché, slagging off her homeland just because that's what audiences expect.
Brady also fears being boxed in by her Asperger's diagnosis, and her mother's judgment for being bisexual. So she's got a fair bit on her plate. But Brady is the combative type, and I wouldn't bet against her winning all these battles.
Arlene Foster knows a bit about getting into a spat with Brady, too, after a joke that Brady made about the DUP leader being a closeted gay (which would explain her homophobia). This section is one of the highlights of the show and suggests that despite her anxieties, Brady is also pretty fearless.
Privilege is another major theme of the show, especially among men and the confidence that so many of them have. Brady notes the difference she sees when men and women send her direct messages on Twitter, and how much women have learned to apologise constantly.
There is a glorious gag in this section about the discrepancy between male and female oral sex, and how men could be persuaded to do it more. Cat-callers also get the treatment; they so repulse Brady that her chosen response is pretty gruesome for them, but very funny for us.
The final section of the show is a bit of a change in tone, as it's devoted to her burgeoning broodiness. She describes as an entirely physical phenomenon, one that her brain is really not on board with.
I absolutely love the way she delivers a devastating abortion joke, then takes a sip of water like it's nothing. It is moments like that that make you realise that Brady's got it.
In what can only be described as a surprise ending, we are treated to a cute animal video that she undercuts with commentary about the futility of a wasted life. It's a nicely original way to sign off an excellent show.
Review date: 21 Aug 2019
Reviewed by: Paul Fleckney
Reviewed at: Monkey Barrel Comedy Club
Recent Reviews
What do you think?