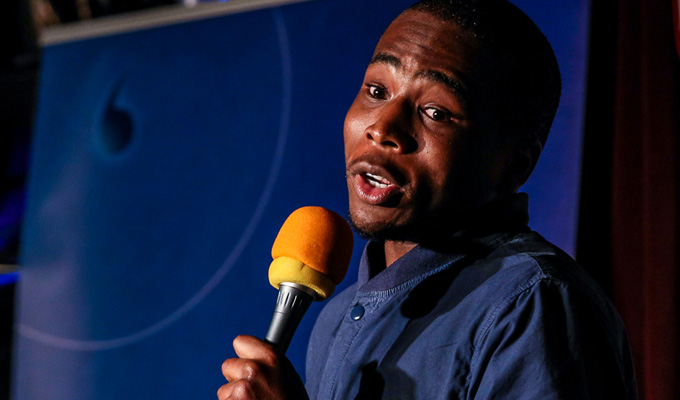 Michael Odewale: #BlackBearsMatter
One of the more anticipated debuts of this Fringe is by Michael Odewale, who bagged the nest new show title at the Leicester Comedy Festival. But for my money, there are plenty of better debuts out there. As is often the way, it's the material that has the most room for improvement, though his potential is very evident.
As a student of politics and protest, these themes are dominant in #BlackBearsMatter, charting the full spectrum of protest from self-immolating monks to signing Change.org petitions (which is more his kind of thing). Most of all, he is anxious that he isn't getting involved enough in social movements and the struggle for change.
The Brexit march this spring was well-attended enough as it was, he says: he could let that slide. To illustrate this point, he introduces people in his life who are more politically active and highlight his apathy, but they feel like constructs rather than anything that rings particularly true.
He has some good, analytical material on race, notably Kanye West's comments on slavery, and the glaringly obvious racial mistakes that are made in the fashion industry. Also, engaging is his section on being too black for the private school he attended, then too white for the state school he went to afterwards. If anything, he could have extracted more on this subject and his experiences.
There's a minor issue with his delivery that should be ironed out, too. There's a very particular rhythm to his punchlines that he seems to fall back on: a big pause right before the punchline, then a quickfire delivery when it finally comes. This kind of signposting like this feels like a crutch and he may be better off letting the words speak for themselves without this flourish.
Odewale has some fine attributes as a comic, though. He's smart, and his delivery when he's not signposting is excellent. He's also a confident and engaging performer and probes into a range of interesting, contemporaneous subjects.
It is a decent debut, certainly, and I like the mix of it being partly autobiographical, partly outward-looking – most newcomers stick to just the former. Odewale has work to do to really hit the next level, but the foundations are there.
Review date: 20 Aug 2019
Reviewed by: Paul Fleckney
Reviewed at: Pleasance Courtyard
Recent Reviews
What do you think?