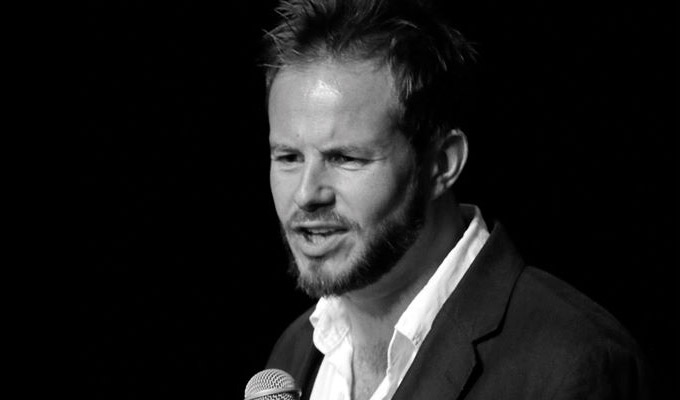 Jimmy McGhie: BA (Hons)

I didn't see last year's show form Jimmy McGhie, but this is apparently a re-vamp. And a good one too.
The strength is that it's personal and unsparing, with laughs coming from his storytelling and his ability to handle any audience.
On a sunny weekday afternoon, there were a few sets of senior siblings, something like a works outing from a recruitment firm with the obligatory gobby woman in the front row, and two dimwits talking non-stop because they thought they were too cute to be told off. McGhie dealt with everyone with his customary charm tinged with a shot of acid so he didn't look like a pushover.

The mocking title – and as a fellow drama degree holder, I do realise how blooming pointless that qualification is – set the tone. The resolutely fresh-faced, McGhie is the runt of the litter of high achievers and comes from a long line of militarty men (although I swear he said his grandfather was 'gynaecologist to the Army' which I really thought wouldn't have been the busiest of roles)
McGhie was supposed to go to Sandhurst and into the Guards, but skipped off to pretend to be a tree for three years at Kent, inviting some terse words from his father, a colonel.
The comedian has previously done the 'dead dad' show, which I didn't see. But there was enough here to suggest that father and son had a tetchy relationship. The Colonel was a serial husband, while McGhie turns out to be a fuckboy. He politely calls it a womaniser, which sound retro and rakish, but it's not a title I'd be proud to claim.

He was amusingly harsh on himself, turning the focus on a life that in a school report would suggest 'has not achieved his full potential'.
The metaphor of being a drone, nipping off to fertilise a queen every so often, while hoping to be a kept man is funny, but a bit unsettling when you look at it closely. But you will be royally entertained by McGhie's relaxed demeanour and easy manner, even as he portrays himself in a less-than-flattering light

This is the sort of show McGhie can do in his sleep: perfectly enjoyable and offering an illuminating look at his domestic arrangements and the rigours of being middle-class, enjoying the benefits but with a whiff of self-contempt to puncture any smugness.

Review date: 19 Aug 2019
Reviewed by: Julia Chamberlain
Reviewed at: Laughing Horse @ The Pear Tree
Recent Reviews
What do you think?