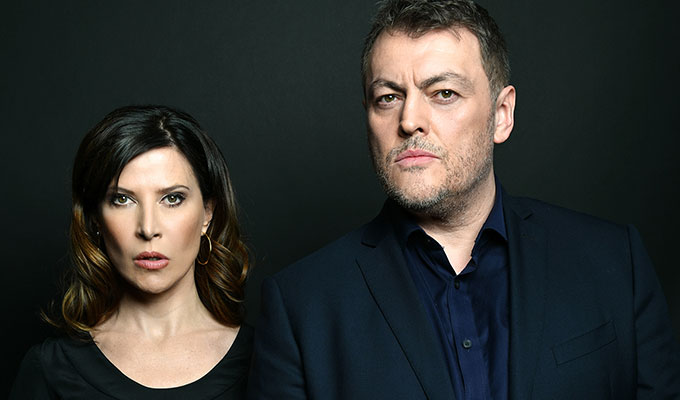 Ronni Ancona and Lewis MacLeod: Just Checking In
Ronni Ancona and Lewis MacLeod are phenomenal at what they do, not only perfectly mimicking the stars, but also funnelling their personalities into firmly-drawn caricatures with engaging efficiency.
As listeners to Dead Ringers know, just a 'pwah' from McCloud conjures up Boris Johnson in all his out-of-his-depth buffoonery; while Ancona is even better at being Olivia Colman than the Oscar-winner is herself.
They rattle through the celebrities: Donald and Melania Trump (of course), James Corden, Jennifer Saunders (even more brilliant for being such an unlikely subject), Ian McKellen, Paul McCartney, Julie Walters, Robert de Niro and Carrie Symonds (although no one really knows what she sounds like, it feels like Ancona nailed her) to name but nine.
However, as a vehicle for their vast talents, Just Checking In is more of a rickety charabanc than a sleek sports car, unsure of what road it's on.
The premise is that we're at a fading Scottish hotel, still frequented by celebrities but now a shadow of its former glory, which Trump wants to buy.
It starts as you might expect, celebrity guests and famous staff in conversation to show off the impersonations, but then spins off into a ridiculous narrative that's thinly told and not very well-nurtured. The pair introduce characters not based on famous people, who are even more larger-than-life than their impersonations. However, their volume seeks to disguise the fact they are pretty shallow..
The pair happily abandon the story, too – and things usually get better when they do. At one point it even becomes a pantomime: Cinderella as narrated by Johnson with Jo Brand as the fairy godmother and Jeremy Clarkson and Alan Carr as the ugly sisters. Was this a leftover script from an unmade Dead Ringers Christmas special? It's actually one of the funnier segments, but it otherwise has no place in the show.
Ancona and MacLeod also have good chemistry and occasionally break out of the script for banter, but never for quite long enough. Given how slight the writing is, they should encourage themselves to do this more.
Both are so very watchable in their different ways – MacLeod big and commanding, dealing in broad strokes; Ancona more delicate and subtle – but their considerable talents aren't best used in this mish-mash of a piece.
Review date: 19 Aug 2019
Reviewed by: Steve Bennett
Reviewed at: Gilded Balloon at the Museum
Recent Reviews
What do you think?