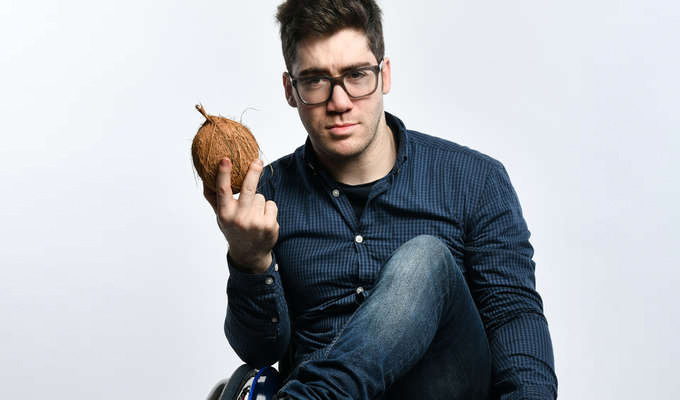 Aaron Simmonds: Disabled Coconut
Should any explanation be needed, Aaron Simmonds has taken a derogatory term used for black or Asian people who are considered 'white on the inside' – and therefore somehow Traitor to their ethnicity – as the title for his show. For although he has cerebral palsy, he was accused of abandoning fellow disabled people when he performed at an inaccessible venue.
That gig, in Newcastle two years ago, forms a through-line for this robustly put-together show – not least because that is where he first met his girlfriend. Over this engaging hour, we get to know former BBC New Comedy Award finalist Simmonds as Amy did that night.
We also meet his relatives, most noticeably his pin-sharp grandmother, an unlikely keyboard warrior fighting the good fight against those who would troll her grandson. She's queen of the clapback, and deserves a co-writing credit on this show, given she's given Simmonds some of his best lines. In fact, he's blessed with funny friends and family who've all fed him material.
As a triple threat – he's also short and lactose-intolerant – Simmonds has an affable, self-effacing tone. He describes himself as 'fiercely independent but very lazy', which is why he accepts offers of help, even when he doesn't need it. But his writing is far from lazy.
He offers a strong mix of effective one-liners and longer anecdotes, such as his inauspicious first meeting with Amy's dad. The way their relationship develops beyond awkward dates as they bond over a shared sense of humour makes for a winning romantic story.
The comedy, sometimes a bit on the crude side, cuts a sure path between including his disability – it is, after all, a part of who he is – and being about disability. For really he's just another 29-year-old idiot blundering his way through the world the best he can. Like that Newcastle pub, the wheelchair doesn't enter into it.
What's most notable about Simmonds is his skill as a raconteur, never losing the audience for a moment. The delivery is spot-on, with a keen sense of timing and rhythm, especially knowing when to hold back and give a gag space.
As a personal, positive story – and with a payoff that almost seems too good to be true – Disabled Coconut perhaps misses out on having moments of significant impact on a wider audience. But it's warm and witty throughout, an impressive calling card for a comedian in control of his material and his sense of who he is.
Review date: 18 Aug 2019
Reviewed by: Steve Bennett
Reviewed at: Underbelly Bristo Square
Recent Reviews
What do you think?