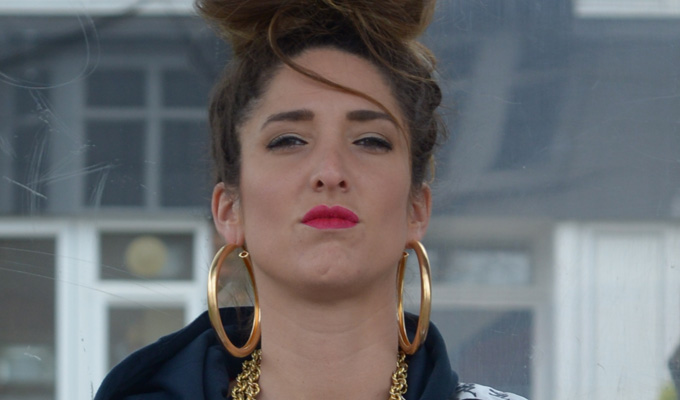 Kelly Convey: Telephone Voice
The Edinburgh Fringe continues to reflect the British obsession with class, but Kelly Convey is probably better qualified than most to investigate the subject.
In her debut show, she tells how she grew up staunchly working-class, only for her family to come into money and send the two youngest children to private school. Convey herself ended up following the Great Expectations path of going from humble North Kent to the riches of London and her life changing accordingly. She ended up in a lucrative TV job at Fox, travelling the world and not getting perved on by Harvey Weinstein (which she's taking as an insult).
Convey's observations about class aren't necessarily original, but there probably aren't many original observations left to be made.
Nevertheless, Telephone Voice is a thoroughly enjoyable romp through her story, charting the changes in her accent and her clothing (no more Kappa jackets for her), and her attitude towards home. She admits to feeling ashamed of home at one point, à la Pip, but resists hamming up a big emotional message.
The most striking thing is how confident this is for a debut show. It's easy to see why Convey made such a success in TV and why she was plucked to support Alan Carr on tour. She's got the charm and charisma to get a room on side straight away, and when she needs a bit of bite to assert herself, she does that without it being alienating.
Often her humour comes from a kind of sudden, semi-brutal takedown, just when she has been serious for a second. She's a fine storyteller too, especially when describing her wait for her boyfriend to propose. The overall quality of the material isn't stellar, particularly, but there's enough good stuff in there to show she's in the right game.
By casting the net to include her grandparents (who grew up in Brixton and ended up in Benidorm) we get a flick of race, too, as they recall the Windrush generation arriving as neighbours. Convey shows that, despite all the talk of identity and other potentially heavy subjects, she has a light touch, and is resolutely accessible. On which note, the seemingly unrelated topics of First Dates and Take Me Out turn up, as Convey appeared on the former and nearly appeared on the latter. She has some solid material on her brush with the other side of the camera.
As it happens, I also was born in the same place as Convey (Chatham) and have ended up in the same part of South London, too, so this show is about as relatable as a show can get for me. But never mind that, Convey has mass appeal, and shows signs that she's got what it takes.
Review date: 18 Aug 2019
Reviewed by: Paul Fleckney
Reviewed at: Pleasance Courtyard
Recent Reviews
What do you think?