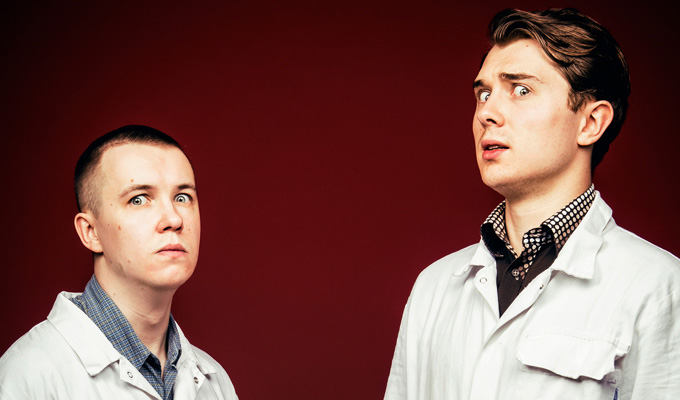 Moon: We Cannot Get Out
Comedy and tension go hand-in-hand, with the relief of a punchline a primaeval response to a threat dissipated. And that means comedy can be an aggressive form of entertainment, a notion Moon like to play with.
Many sketches in this intense double act's arsenal depend on a ratcheting stress, from a vicar running through a wedding ceremony to a violent line of questioning in a car showroom.
Both Jack Chisnall, the more naturally pugnacious of the pair, and Joshua Dolphin, who bears a passing resemblance to a young Steve Coogan, are muscular performers who can ramp up the menace and melodrama when needed, stretching the point when the audience are relieved with a comic get-out. They commit utterly to their performances – and to pulling off pranks – which makes them compelling to watch.
In the spirit of the show, many elements of pop culture are given grim and gritty deconstructions: Monopoly or Thomas The Tank Engine or Peter Pan or even cryogenic freezing. But they over-use the formula, and this sophomore show is largely one-note, especially as so much of the comedy is bound up in the performance rather than the writing.
Similarly, a sinister running narrative about the room trying to kill them is neither dark nor convincing enough, especially given Moon are not the only sketch comedy outfit working in this creepy genre. That fact also means these two Oxford Reve alumni are not quite the sketch renegades they would probably hope to be.
Even if inconsistent in quality but way too consistent in tone, the pair are always watchable, with their best sketches works of impressive drama.
Review date: 17 Aug 2019
Reviewed by: Steve Bennett
Reviewed at: Pleasance Courtyard
Recent Reviews
What do you think?