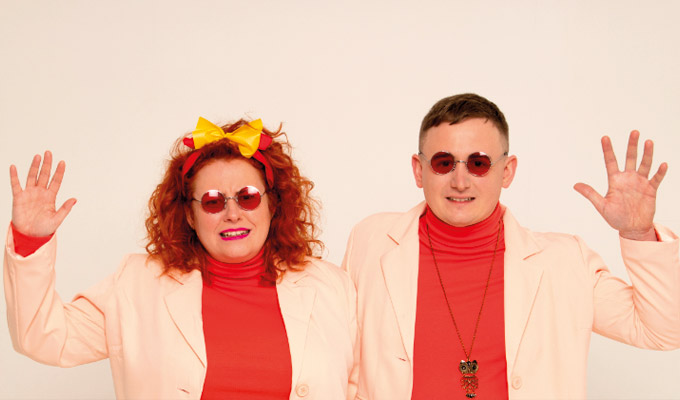 The Delightful Sausage: Ginster's Paradise
As a title, The Delightful Sausage: Ginster's Paradise is not giving you much clue as to what is in store. Sure, you might have learned from the blurb that Ginster's Paradise is a holiday camp, not just a pun, and you might be familiar with the work of bizarre duo Delightful Sausage. But really, we are all inadequately prepared. The good news is, it's an absolute bloody treat.
What Chris Cantrill and Amy Gledhill have done is create a whole world in the basement of the Monkey Barrel. The holiday camp set-up, the characters, the tone, the bizarre journey we take – this is total immersion. The obvious comparisons are The League of Gentlemen and Mighty Boosh, but this pair defy such easy categorisation, drawing on all manner of potential influences. I detected bits of Father Ted in some of the gags, and a touch of the Demetrious, too. Fundamentally though, they just want to entertain us as much as an actual redcoat.
We are not-so gently ushered into this world with a shaky low-quality 1980s-style film, which shows the camp to be a place full of dubious characters, dead animals and dangerous buildings. As a promotional video, it ends up being more of a warning. As our hosts, Cantrill and Gledhill are full of Hi-de-Hi! enthusiasm, leading singalongs and enforcing fun.
And of course it is undercut with some darkness, namely some 'leave means leave' small-minded bigotry and League of Gentleman-ish gross-out. It would be easy for them to simply stop there, showing us the dark side to these light entertainers and the world they inhabit. But, impressively, the Delightful Sausage avoid this lazy pitfall.
Firstly they don't have especially strict rules for this world. Instead of that being a weakness, it somehow works as a benefit, allowing them to do whatever the hell they want. Like when they invite a contestant on stage to do the old Generation Game conveyer belt memory game. The pair revert to all-out mischief mode and properly stitch up the poor guy in an entirely unexpected way. And it gets even more chaotic, with the appearance of Colonel Whippy (a massive ice-cream) during the morning kids' club. Colonel Whippy is so big he can barely fit down the aisle to get to the stage. It's completely ridiculous and hilarious.
Secondly, Cantrill and Gledhill do actually get a semi-proper storyline out of this, not content with just holiday-camp larking about. The world they have constructed to such good effect is revealed to be something else, in a clever and totally justified twist that makes the show feel like a properly substantial hour.
Cantrill and Gledhill have the ideas, the smarts and a king-size sense of fun. Whatever you're doing at noon, cancel it and see this instead.
Review date: 17 Aug 2019
Reviewed by: Paul Fleckney
Reviewed at: Monkey Barrel Comedy Club
Recent Reviews
What do you think?