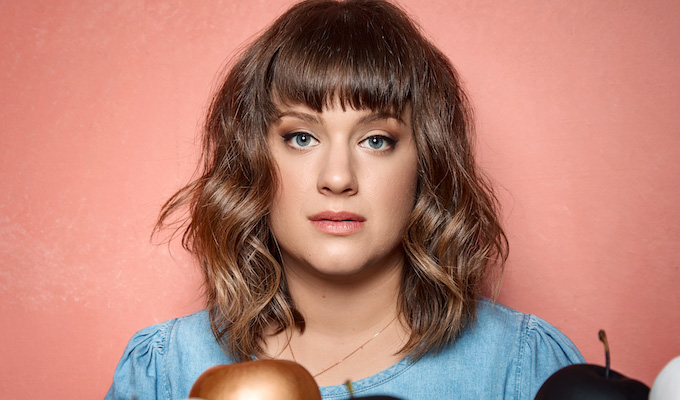 Anna Drezen: Okay Get Home Safe!!
Given the popularity of true-crime podcasts and grisly Netflix documentaries, Anna Drezen clearly hits the zeitgeist by theming her show around Ted Bundy.
She starts with a weird news story from the time of the serial killer's trial, interviewing the young girls who flocked to the courtroom to hear the sickening testimony. Okay Get Home Safe! scratches at why women, especially, are so obsessed with stories that prey on their vulnerabilities, but never quite gets to the nub of it.
Drezen also flirts with the Fringe expectations that shows need a dramatic bombshell, saying she has a personal story but wants to keep it to herself, insisting that it's not necessarily healthy for comedians to open up on stage. 'I don't want to bleed out it front of you,' she says.
Instead, whenever she feels herself getting close to something emotionally significant she cuts to some spoof adverts, some of which are pithily absurd, but all cause an abrupt change of tone, which was their intention.
The doll's house version of the mansion where six-year-old beauty queen Jon Benet Ramsey was killed is the only one on-topic, and stretches the joke too far, especially as the 23-year-old case is long-forgotten for anyone not a true crime devotee. The intent for all these seems to be the commercialisation of crime… though isn't that what Drezen is doing, even obliquely?
The subject matter allows Drezen to consider gender issues, including the consequences of the patriarchy, the delusions attractive young girls have about how the world really is, male violence, and her relationships with abusive partners, likening them to the girls fixated on Bundy.
It's a bit heavy, and there are not quite enough gags to leaven it. Drezen, a Saturday Night Live writer, has a dry, dark sense of humour and readily admits: 'All I think is funny is actually profoundly sad'. But she doesn't always add a strong enough bridging gag to make the rest of us see the funny side of the gloom.
Her monotonous, if genial, delivery is also tough on some of the heavier stories, as she doesn't have the reserves to make punchlines zing. Given that flat tone, it's something of a surprise to hear she was trained at Rada. But maybe she spent too much time on the sword-fighting lessons, where she developed a crush on the teacher.
On more traditional comedy ground she has an amusing, if slightly drawn-out, story of an encounter with a flightly millennial that will confirm every prejudice you have, and a very neat take on the difference between the way Catholics and Jews deal with their problems from both sides of her family. They're not really on topic, but are robust stand-up routines.
The show turns out to have more structure than first appeared, digressions notwithstanding, and some strands come together in the final routine, which has some clout, even though it wasn't fully exploited.
Like so much of the show, she didn't quite land the killer blow, if that's not an inappropriate term given the context.
Review date: 15 Aug 2019
Reviewed by: Steve Bennett
Reviewed at: Pleasance Courtyard
Recent Reviews
What do you think?