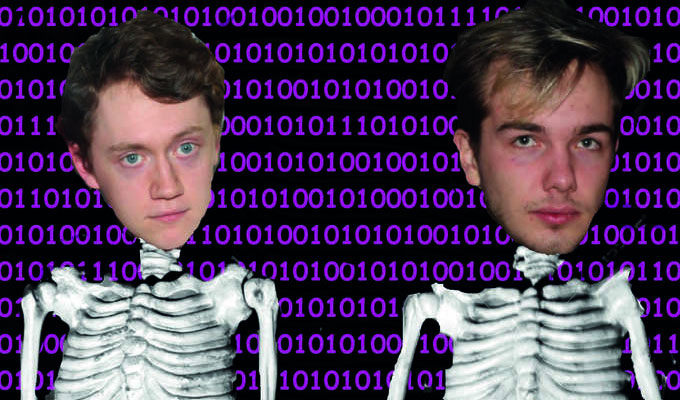 Obsolete
Black Mirror as a student sketch show? Sure, why not…
The linking device for Obsolete is a presentation by a sinister tech company that promises immortality and freedom from that archaic meat suit you call a body by uploading your consciousness to the cloud. What could possibly go wrong?
Cambridge Footlighters Comrie Saville-Ferguson and Dan Allum-Gruselle (two guys, four surnames) introduce the concept with a grimly witty song that flips from the jaunty to existential despair in a single bar, getting the laughs flowing early.
Chortle student finalist Allum-Gruselle plays the sensible one with a string of letters after his name, Saville-Ferguson his sidekick Bint, an engaging mix of rank stupidity and unthinking enthusiasm, like many a good comedic second banana.
There's a core narrative to this strand which plays out largely as any fan of dystopian sci-fi might expect, but of course it's just a device on which to hang various skits, whether tech-based or not. I still can't remember quite how we got to the scenario of Tinky-Winky being on a serious-minded interview show, but that's where we found ourselves.
We zip through the history of civilisation, funny for its vigour and its superficiality, while its antithesis is a sketch about satellite delays at the Eurovision Song Contest, eliciting nervous laughs to break the long silences, although the titters never quite coalesce to make the glacial pace worth it.
In rather an unfortunate ordering issue, that one is followed by a similarly deadpan scene mocking Andy Murray's lack of enthusiasm – an easy target, but hit on the bullseye. The same could be said for Allum-Gruselle doing a white-guy rap, clichéd but effective, and a scene in which they imagine various apps as people, a familiar internet trope, but topped off with a very inventive idea.
Obsolete does have its share of duds, too, with the pair failing to sell their rather leadenly executed scene of oneupmanship between Bill Gates and Jeff Bezos very well.
There's a full mix of styles over the hour, from delicious cruelty to smug puns, but the pair keep the proceedings coherent with a commanding air, even if it might have been better as full-on authoritarian.
Their energetic performance goes a long way, too, enlivened by the musical numbers, and they are smart writers who often find flourishes in the dialogue that lifts even the standard scenes. Certainly whatever vision of the future they project, it has them doing rather well at comedy in it.
Review date: 15 Aug 2019
Reviewed by: Steve Bennett
Reviewed at: Underbelly Cowgate
Recent Reviews
What do you think?