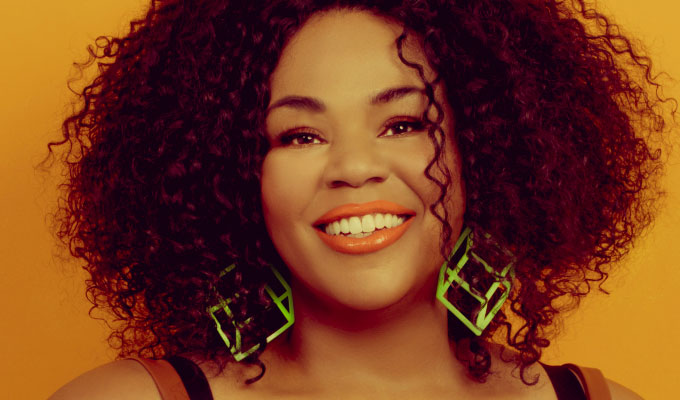 Desiree Burch: Desiree's Coming Early!
Knowing the value of a theatrical device, Desiree Burch has a book to one side of the stage, which contains the gospel truth. Everything else is a story.
And quite what a fantastical tale it is, apparently based on actual events but shrouded in magical realism. That warping of veracity is entirely apt given it's based largely around a deep LSD trip she accidentally took at the Burning Man festival.
She and best friend Dave headed to the Nevada desert to try to put an end to the 'great dick drought' that blighted Burch after a relationship breakdown. There surrounded by the naked and the artistic, she would surely find what she wanted.
This post-millennial shaggy dog story also draws in wider issues more significant than her hazy recollections of having her consciousness expanded, plus stand-up-like sections that seek laughs in a more conventional manner.
Most memorable is her take on cinema's 'magical negro' trope of the thinly drawn black best friend who pops up only to solve the dilemma facing the white lead character – see Green Mile for proof. She also mourns the entertainment she can no longer enjoy from now-shamed icons. Yes, it's another comedian lamenting Michael Jackson's now tainted work.
Her adventures take her to an otherworldly bar straight out of the imagination of David Lynch, where she gets stuck in a recurring loop of male sexual misconduct. So not so different from the real world.
But even on moral issues, the lesson is not always quite as straightforward as might first appear, as the narrative is built, like Burning Man itself, on shifting sands.
A true anecdote about IQ tests in her native California, told in prologue and epilogue from the book of honesty, doesn't fit quite so neatly with the rest of the story, though it plugs into the same broader themes and opens a window into the world where Burch grew up.
The feeling of fantasy, and a story that sometimes turns out too conveniently, means Desiree's Coming Early! doesn't have the full impact of her breakthrough show Unf*ckable, which was more directly truthful, and so more intimate.
But she is a mesmerising storyteller, and she draws the listener into this dreamy landscape with a winning mixture of quiet command and lyrical writing. And there are laughs to be had at the expense of misogyny and other misbehaviour in both pop culture and the real world. That you can believe.
Review date: 15 Aug 2019
Reviewed by: Steve Bennett
Reviewed at: The Hive
Recent Reviews
What do you think?