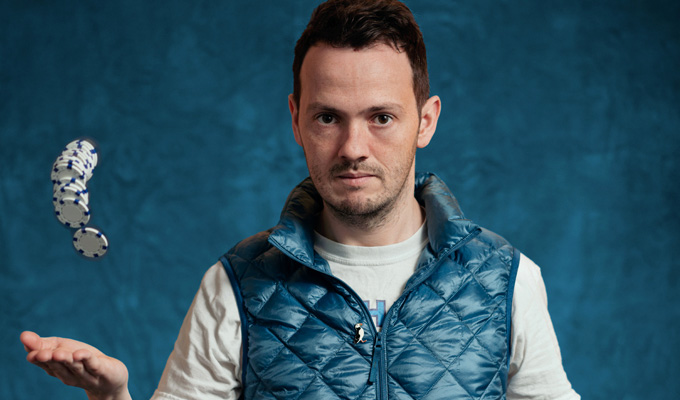 Stuart Laws Is All In
Stuart Laws Is All In is a slightly tricky show to review as – for reasons it would be a spoiler to explain – it can be substantially different each day.
That's because Laws likes to give himself a challenge, almost regardless of how much all the effort involved will have on the quality of the show. It's more for his personal satisfaction and sense of achievement.
The same applies to the jokes as well as to the bigger concepts. For example, he crams as many cheesy Will Smith references into the narrative as he can, which seems like a dare to himself. Although it also becomes something of a game for the audience to spot them.
All of which leads to the feeling All In can be more tricksy than funny, even if it is certainly funny too. Gilet aficionado Laws starts with jokes pure and simple, though, with a volley of silly one-liners to set the tone. He describes himself as a 'very quirky boy', and that seems accurate, with his impish silliness.
For the main gimmick, he turns the tables on the crowd and starts judging us: as one person will be named the best audience member of the gig and be in with the chance of winning $500. If nothing else it can be a carrot to keep everyone in line, and leads to a nice dialogue between comedian and ticket-holder.

The show comprises three main subjects, all leading up to a trip to Las Vegas, where he took part in a poker tournament with a lot on the line. His best stories, like this one, have at least one foot in the truth, while more fanciful premises take the long way round to an unworthy punchline. But he attaches daft little jokes along the way, told with an eager, puppyish charm and an ear for a pleasingly offbeat phrase. Calling grandparents 'nan and nandad' should really catch on.
Such offbeat puckishness consistently amuses, even without great crescendos of laughs, in a solidly entertaining lunchtime show with admirable ambition.
Review date: 14 Aug 2019
Reviewed by: Steve Bennett
Reviewed at: Monkey Barrel Comedy Club
Recent Reviews
What do you think?