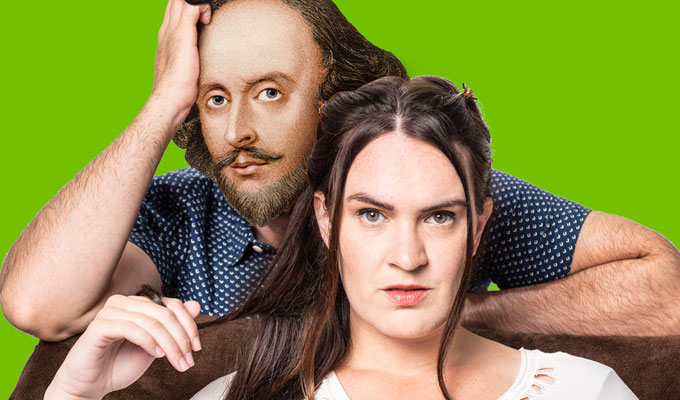 10 Things I Hate About Taming Of The Shrew
Shakespeare's Taming Of The Shrew is a very easy play to hate. And if you don't know why, Gillian English will have you on side in minutes, simply by outlining the main plot: Katherina is a strong and independent woman 'tamed' by Petruchio with psychological torments straight from the abusive partner's handbook, such as gaslighting, sleep deprivation and starvation, until she becomes a compliant, obedient bride. Oh, and Petruchio is portrayed as the hero of the piece.
Naturally, this misogyny is more than enough raw material for an hour's diatribe against Shakespeare and his attitudes. English – a Canadian living in Tasmania – gallops through her case at quite a clip to pack in all the upset sparked by the play, its adaptation into the 1999 romcom 10 Things I Hate About You, and the Nick Lowe song Cruel To Be Kind, as featured on the soundtrack.
Her anger at the messages these contain powers her supercharged performance, full of righteous passion and energy that would steamroller any resistance – not that there are any gaps in her argument to challenge. The sexism is so vast and blatant, subtlety is not required to confront it, but her wit is as sharp as her opinions are blunt.
Her fierce and justifiable diatribe also spins off into all manner of digressions, too, about the likes of Justin Trudeau's hypnotic good looks, the 'frenemy' she made in Australia's healthcare system and the student debts she racked up. On their own, these routines would probably be pleasantly amusing rather than gutbustingly hilarious, but once you're caught up English's maelstrom, everything is exaggerated, even the audience reaction.
Not that her financial investment in going to top London stage school Lamda was entirely wasted: it's given her these phenomenal performances skills, plus the ability to drop into the occasional accent, most notably the unreconstructed Australian ocker.
The lessons in medieval dance probably were a waste, though, as she doesn't even get to show them in a show about Shakespeare. Instead, she uses her commanding physicality to give a brutal self-defence tip that would stop any attacker.
But words are her primary weapon, and she unleashes them in full-pelt here.
Review date: 13 Aug 2019
Reviewed by: Steve Bennett
Reviewed at: PBH's Free Fringe @ Voodoo Rooms
Recent Reviews
What do you think?