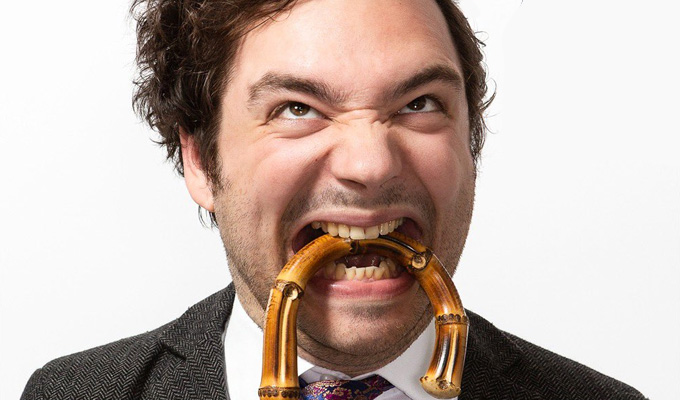 George Fouracres: Gentlemon
In sketch trio Daphne, George Fouracres was the one whose over-the-top character work stood out against the droll irony of Phil Wang and the more realistic acting of Jason Forbes.
And in his debut solo show, he appears to have adopted another character: that of an 1950s music-hall mid-bill comedian doing a personal 'in conversation with…'
He's got the look – slightly ill-fitting chequered suit, red braces, well-maintained moustache and neat haircut, and his stories often have an old-fashioned feel. Many revolve around his bricklayer granddad's tippler-fancying – basically an endurance version of pigeon racing – and the dying dialect of his native Black Country.
But this is the real Fouracres, promising a 'gentle hour of anecdotal storytelling', in which he covers the familiar subject of class fluidity. He grew up in a working-class home in Willenhall, but thanks to academic success wound up in Cambridge, where Footlights gave him a leg-up into the world of comedy and acting. And there's no money in that, so he's often back doing working-class jobs again.
Fouracres paints evocative pictures from reality rather than cliché. There are no shorthand mentions of quinoa to signify the chichi middle classes, while he kindles vivid memories of shared bathwater, playground fights and primary school hymn-singing – and most memorably his own family members. Other digressions take him into a needless piece contrasting American wildlife programmes with our own and a brilliant parody of every Church of England hymn ever.
While he deploys some of his thespian talents in his stories, they really come to the fore in the characters that punctuate the main story, for no other reason than to break it up and showcase his strengths.
The worshipper faking it in church is spot-on, while his gritty Dad's Army reboot – far funnier and far more intense than the Gold channel's forthcoming version could ever be – is worth the ticket price alone.
Fouracres ends with a coda about social mobility and the erosion of regional identities that feels like the sort of thing you do for Edinburgh shows, rather than a necessary sign-off. But that's not to detract from the affectionate nostalgia and skilled character work that makes Gentlemon a classy hour.
Review date: 12 Aug 2019
Reviewed by: Steve Bennett
Reviewed at: Pleasance Courtyard
Recent Reviews
What do you think?