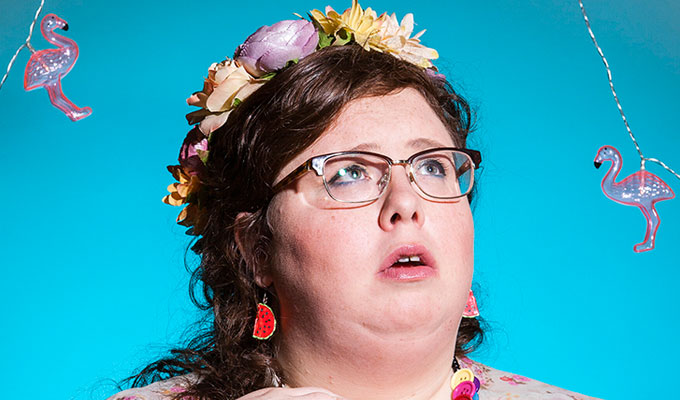 Alison Spittle: Mother Of God
A decorative piece of craft hangs behind the stage, created by the comedian's own hands from cardboard, paint and cornflakes. It perfectly sets the scene for the charming, low-key Alison Spittle.
Over the hour she talks about a childhood spent moving from place-to-place due to her father's work commitments, trying to reconnect with Ireland, and attending the infamous Oxegen festival. Reflecting on days gone by, Spittle invites the viewers into what made her the woman she is today.
With the benefit of hindsight, Spittle puts herself back in those moments, adorably commenting on them with fresh eyes and wit. Her great conversational attributes keep audiences hooked.
Her story about Oxegen is a highlight as she relives an extreme experience: using carrier bags as shoes; experiencing her first kiss; getting a group of girls beaten up; and laying the smackdown on a guy who jumped on her tent. It's a funny retelling of a story that was clearly a horrible ordeal.
But the problem with Mother Of God is that it doesn't do much to stand out; there's nothing about the show that gives it an extra nudge to add longevity. It's all very serviceable and a bit generic. Occasionally, Spittle may take an observation somewhere unexpected, but it's generally powerless.
Off-the-cuff digressions, some of which lasted up to five minutes, are Spittle's crowning moments. She displays a clear talent for riffing as she chats unaffectedly to the crowd, making parts of the show unique to this performance – including apologising for her quietly belching.
There are laughs throughout, and Spittle's delivery seems unrehearsed and engaging. She controlled the room, and we wanted to listen.
But in a festival with this many performers, something in a comedians act needs to be turned up to 11, otherwise they'll just get lost at sea.
Review date: 12 Aug 2019
Reviewed by: Jack Boyles
Reviewed at: Gilded Balloon Teviot
Recent Reviews
What do you think?