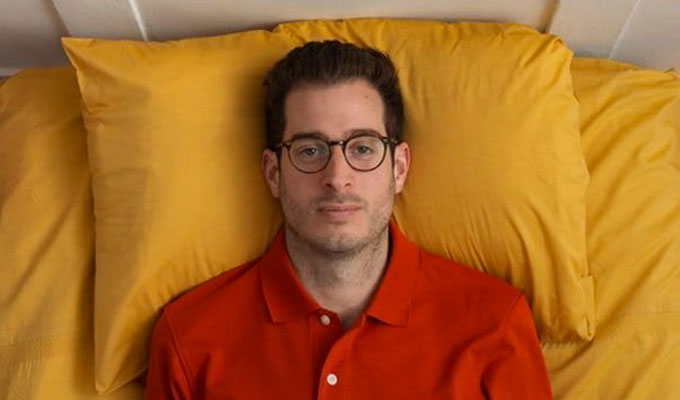 Dave Green: Guest Bed
By presenting this story as a fantastical tale that blurs the lines between fact and fiction, Dave Green is holding some things back from the audience. One of which is some crucial information which provides the revelatory sting-in-the tail ending. But he's also holding back an honesty which makes it harder to invest in the narrative that would give that payoff its full impact.
The main plot – which, like so much of the yarn may or may not be true – is that his resemblance to record producer Mark Ronson leads him to the occasional lookalike job to help pay the bills, one of which took him to Google, where an old school pal now works as a successful executive. They haven't seen each other in years, prompting some reminiscences about their peculiar childhood friendship and some feelings of inadequacy now their lives have diverged.
Another strand has him seeking medical attention after his arm froze up, a rare malady for a man who prides himself on his physical and mental good health. Meanwhile, he also finds himself back in his childhood home, where his bedroom includes the mysterious spare guest room of the title, after the end of a relationship.
Green doesn't always make it easy to buy into some of these elements, whether conceits, truths or slightly oddly exaggerated realities. That's partly because of a credibility gap, and partly because his relatively deadpan delivery is not best-suited to persuading us to suspend disbelief.
There are some amusing offbeats jokes along the way and an occasional 'what's the deal with?' routine shoehorned in, showing he can be a smart and quirky writer, even if not every bit lands. But in the bigger picture, his ambition outpaces his ability. The jumbled story is more confusing than enigmatic and doesn't persuade the audience to invest.
It's a shame as there are good ideas here, several of which may linger in your head. But the lax narrative needs some fairly major reengineering, probably involving rooting the story more in the real than the surreal, to capitalise on the promise of his creativity.
Review date: 7 Aug 2019
Reviewed by: Steve Bennett
Reviewed at: Just the Tonic at The Mash House
Recent Reviews
What do you think?