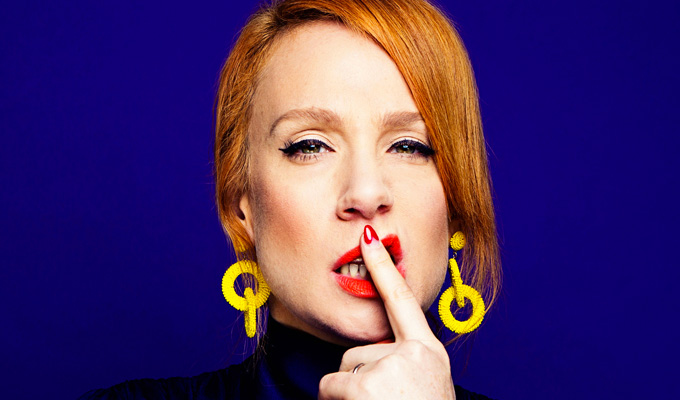 Sara Barron: Enemies Closer
Sara Barron admits she can be seen as 'mean and judgmental'. Although she prefers to put a more positive spin on it, considering herself 'honest and perceptive'.
And in this follow-up to last year's best newcomer-nominated show, she's viciously and witheringly 'perceptive' about such bugbears as hipsters with their pop-ups, chichi weddings, her mean old lady of a grandma – and the 'sociopath' James Corden.
To match the savagery of her attitude, she prowls the stage with the restrained aggression of a caged tiger – as sinewy physically as she is in her opinionatedly intolerant attacks. She hates talking about being an American in the UK, but her direct approach is certainly unfettered by British politeness, and the physicality helps sell the material even harder. She also has an acute cynicism more attuned to the national psyche this side of the Atlantic than the default US optimism.
Barron see the world as black and white, and is giddily excited to be able to dish the dirt on a former flatmate's bad behaviour so long after she had formed an instant opinion of him and a wrong 'un.
Her own state of being is also subject to that same 'perception' as she mulls with acute self-awareness the fact she's fast approaching 40 and gone beyond the 'seven-year itch' stage of her relationship where now everything that once endeared her husband to her is now an irritant. She scours the audience to find others in the same boat, incorporating brisk crowd work into her outpouring of annoyances.
Enemies Closer is less bawdy than last year's debut, with her brutal honesty instead brought to bear on personality traits more than sexual behaviour, but still retains, even amplifies, the rambunctious style that got her noticed. It's a wild ride, and often uproariously funny.
Review date: 5 Aug 2019
Reviewed by: Steve Bennett
Reviewed at: Pleasance Courtyard
Recent Reviews
What do you think?