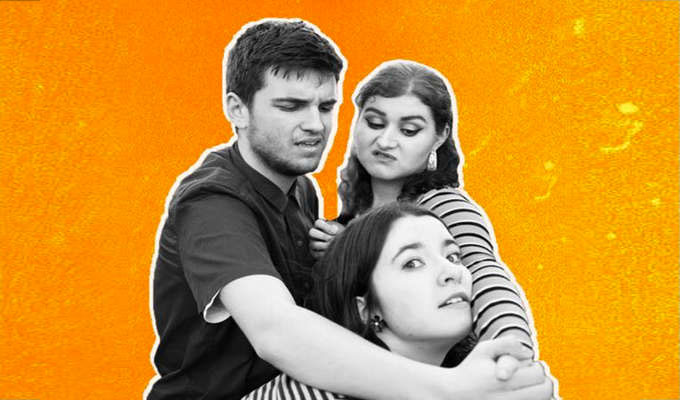 It Takes Three to Tango
There's a fine line dividing 'enthusiastic and lively' from 'irritating and attention-seeking' – and for my taste, these three overly theatrical members of Cambridge Footlights too often mugged their way on to the wrong side of it.
The vigorous performance is well deployed in musical numbers, but too often seemed to overcompensate for mediocre ideas, even though there are also flashes of invention in this high-spirited show.
Fundamentally, the dynamic between the three comics is too sketchily drawn. Indeed, the contrived premise of the narrative between scenes is precisely that the trio are trying to figure out the relationships they would need to form a winning triple-act before going into a TV audition. But referencing a problem – let alone using it as the foundation for a full hour – is no substitute for fixing it.
The set-up also becomes increasingly laboured, as the fact we care little for the personalities on stage became more and more problematical. Even the sycophantic laughter from the many pass-holders bulking out the audience eventually started to wane.
Broadly, Will Owen is a Marcus Brigstocke/Jack Whitehall hybrid, just as posh and twice as camp. Amaya Holman is domineering and desperate, and Lottie Elton –the daughter of Ben – is more timid and wet, overshadowed by her larger-than-life colleagues.
They start strong, with clever use of voiceovers and a great soap-opera gag. But they also have some clichéd ideas, such as the Bond villain explaining his plan and giving 007 plenty of opportunity to escape an overelaborate assassination, and some that just don't fire, including the Paddington-inspired sketch about adopting a real bear.
But the more crucial problem is that Owen, Holman and Elton generate little empathy for themselves or their very specific plight of trying to get on TV, which is exacerbated by their full-on performances.
Review date: 2 Aug 2019
Reviewed by: Steve Bennett
Reviewed at: Underbelly Bristo Square
Recent Reviews
What do you think?