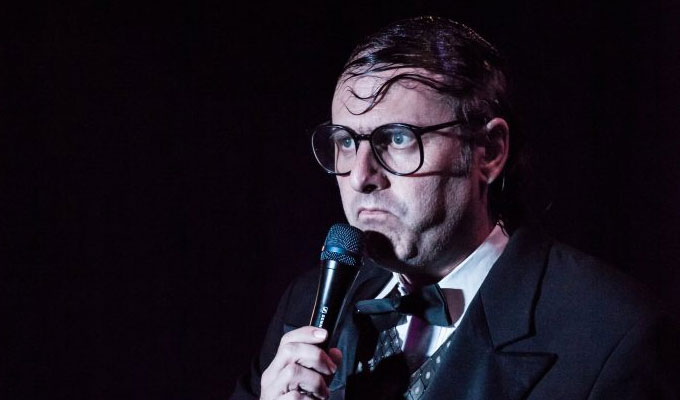 Neil Hamburger: No One Loves A Hater
He's just released an album of songs, and Neil Hamburger takes to the Soho Theatre stage rasping soullessly through a minor Bobby Goldsboro hit from the 1960s, its lyrics about supping cocktails beside a Mexican beach a far cry from the miserable figure standing before us.
Then he embarks on a second track. Has 'America's funnyman' turned full-on musical act? Thankfully, no. This is just his typically pitiful attempt to sprinkle some showbiz glitz on to his performance.
Hamburger may hope to see himself as a Vegas entertainer, but he's the antithesis: joyless, unglamorous, pathetic. He looks like a blobfish in a tuxedo, his thin hair wearily matted over a glum, weary visage. He is a wreck of a man, gassy and phlegmy, desperately grasping an armful of liquor to get through the show and racked by an intense self-hatred.
Yet he clings to his terrible act like a drowning man to a rotten plank of wood, the only thing he has stopping him drowning a deep ocean of his own misery. He shudders with visible disgust as he realises what new horror his next joke will be, but grits his teeth and delivers it anyway.
As ever, they are sour globules of vitriol spluttered at the most precise of targets, almost always successful but artistically unadventurous musicians, ideally at least three decades beyond their sell-by date. Hamburger is punching up – it's the only direction there is when you're as low as he is – but the bitterness comes from pure envy. For one long section, he lashes out at great length about the fact that Kiss frontman Gene Simmons has his own restaurant at Los Angeles airport.
The gags are largely terrible – although a few are actually pretty good, just to mix it up – but it's the whole distinctive pantomime of the performance that's so alluring. There's the milking of the first word of each premise, the needlessly convoluted sub-clauses of explanation, the audience repeating back the 'whys?' and the 'whats?' of the set-ups, and the brutally horrible punchlines, all part of the ritual.
Not everyone gets it – there's a significant minority of stony faces – and those who do laugh, don't always laugh together as some small piteous absurdity can trigger outbreaks of guffaws just in a few. But the feeling of being collectively in on a joke at the expense of the gossamer-thin fakery of the entire entertainment business is a potent one.
After an hour of bilious outbursts, Hamburger returns to the music, pausing only to stand at the back of the stage during an instrumental break to mull over the empty futility of his godawful life. With Hamburger's creator Gregg Turkington allowing no trace of irony to creep into his alter-ego's worldview, he sings the title song about how 'no one loves a hater'. But plenty of people love this hater, with good reason.
Review date: 19 Jun 2019
Reviewed by: Steve Bennett
Reviewed at: Soho Theatre
Recent Reviews
What do you think?