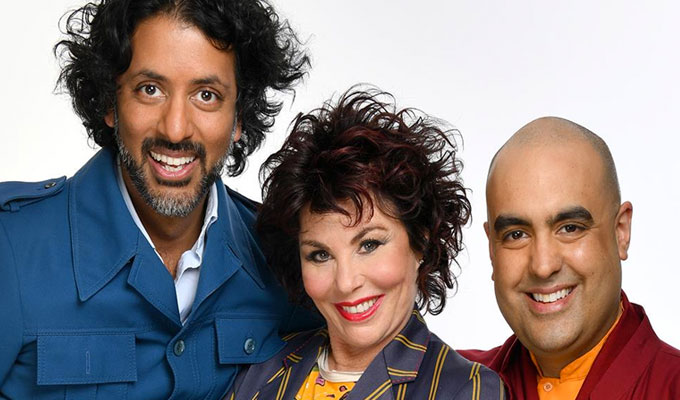 Ruby Wax: How To Be Human
The history of psychology is built on the ideas of two conflicting forces, such as ego and id, left brain and right, lizard mind and monkey mind. So it's probably apt that Ruby Wax's foray into the field, based on her recent book of the same name, is a show of two halves, too.
The first is something of a lecture, read from a folder behind a lectern. It's a PowerPoint away from being a TED Talk. The fact she doesn't have the slides is made into a running joke, funny at first but with diminishing returns.
Broadly addressing ideas of how evolution shapes our emotions, she doesn't make the best teacher, with a surprisingly wooden delivery and a blurring of fact and fiction that acts as a backdrop for her well-rehearsed asides and half-jokes about body hair, that are nonetheless lapped up by an appreciative audience.
Many of her statements are affirmations without explanation – 'we're not supposed to be perfect, so don't sweat it'; 'thoughts are supposed to be negative'; or the hippiest and dippiest of the lot: 'love everybody – that way we'll end war'. This seems at odds with her abrasive reputation, but it's what people want to hear.
Although she is, by her own description, 'the poster girl for mental illness', she keeps the personal at arm's length. Even a story about being institutionalised a dozen years ago is primarily a jumping-off point for a 'what's the deal with?' routine about the esoteric names of paint colours.
Only in the final segment of the first half, where she revisits some of the unusual family history that she unearthed on BBC One's Who Do You Think You Are? gives some proper insight into the real her.
But in the second half, things come alive, as does Wax herself, when she's joined by neuroscientist Ash Ranpura and Buddhist monk Gelong Thubten for a frequently fascinating discussion. She thrives in the presence of other people, and the restraint of the monologue falls away.
Animated by the cut-and-thrust of discussion and the exchange of ideas she becomes flirtatious, teasing, spontaneous and wittier. Both guests are excellent value, too. Ranpura is all you could hope for in a science communicator: dynamic, charismatic and pretty funny himself. He belatedly provides the science that backs some of Wax's early pronouncements and makes sense of the impetuses in our heads.
That Thubten spent four years learning to meditate in a secluded retreat - including five months in silence – awes the audience. And while some of his tips can sound flighty and ethereal, his smart but spiritual approach complements the science rather than conflicts with it.
The three of them could be a prototype for an odd-trio sitcom of mismatched flatmates. Indeed, serene Thubten already stays with restless livewire Wax – she jokes that his robes match her sofa – and the rational boffin would undoubtedly complete the dynamic.
At the heart of How To Be Human is information that could help manage stress, anger and unhappiness. Not least because understanding the brain is a fine way to live with its effects, although there's plenty to promote the in-vogue 'mindfulness' too. Sometimes the show's not funny, nor is it meant to be, but the chat is always informative, entertaining and enlightening.
• Ruby Wax is at Leicester Square Theatre until next Saturday. Tickets.
Review date: 7 Jun 2019
Reviewed by: Steve Bennett
Recent Reviews
What do you think?